This post is the third of a series about working as a physician assistant in Haiti.
Growth happens at times when we are the most challenged
And yes this almost always involves overcoming fear.
There is no better way to travel than with the locals, no better way to experience the culture, no better way to grow as human beings.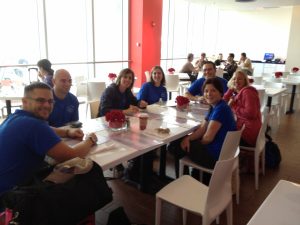 We leave our homes of comfort, our warm beds, and our loving families. Most of us don't know poverty in the way we think we do. And if we do we only know it from a distance.
We came together today as a group for the first time.  We are from different backgrounds and I am from the other side of the country.  We are a Christian group, although I consider myself a "wondering Christian."  I was immediately accepted and felt like I had known the team my entire life.
The Air Up There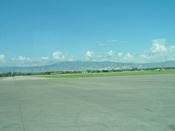 Arriving at the airport, making it from California to Washington DC. Then from DC to Miami, then from Miami to Haiti.  I slept 3 hours in two days.  It was a hell of an adventure and just what I needed.
We were met at the airport by our team leader, an experienced traveler who knew the lay of the land. This was invaluable, we made it quickly to our new digs and I was impressed.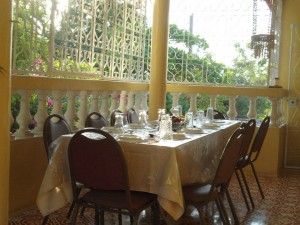 In Haiti power is a variable and hot water is non-existent. Potable water comes in bottles, and the air is thick with dust and the smell of burning trash. But it was better than I thought it would be. The accommodations were better than many budget hotels I have stayed in the U.S... Our host was amazing!
Day 2 - Singing Praise!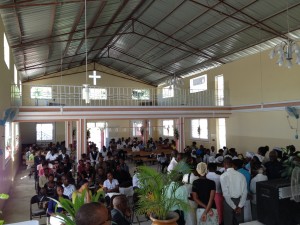 I was thinking today as I was sitting in this restored Baptist church where 1000 or so practitioners waved their hands and sung praises to God, that this sure beats what I probably would be doing on any normal Sunday.
That, and I was wishing my family was here to enjoy this with me.
They sat us in front of an entire parish for the 3-hour service. People sang, they spoke Creole and our translators tried to keep up when they could.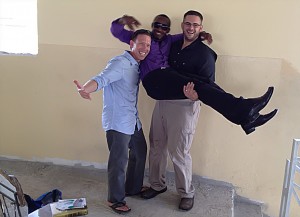 Many of our group spoke during the church service, and Chad, one of the men in our group, gave a testimonial about life and overcoming obstacles. I was surprised to hear he had been an alcoholic, had watched his best friend die in an automobile accident, spent time in jail because of it, and then returned two more times. As he told the Haitians his story in the church it certainly struck a chord.  It also reminded me that even behind the most stable of people often lies a story that reminds me we are all truly human.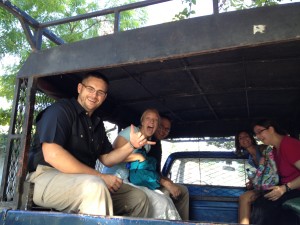 We met amazing people including Josue who is a professional singer. He made me promise that I would friend him on Facebook and post some photos. I posted one of them today. There is always time to take it easy with locals.  Brad (the other PA) and I tried to lead the way!
After the service pastor, Luke took us out for a real Haitian Lunch. We ate goat, fried plantains, rice, beans, and chicken. I have eaten so much here it is ridiculous. Since Coke is as cheap as water this has been in big supply. We had a drink of freshly pressed cherries it was amazing. I have had a blast learning a bit about Haitian history.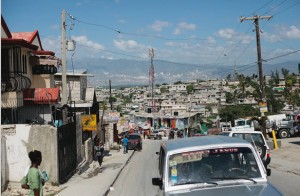 The scope of the suffering here is grossly evident. The 70% unemployment makes the US debates seem frivolous. There are UN vehicles everywhere and still many tent cities, and a lot of rubble. 300,000 people died in the quake.
There are still many tent cities. We spent some time today in the back of a big blue pickup. It was wonderful to finally get out of the "citadel" and into the "real" Haiti.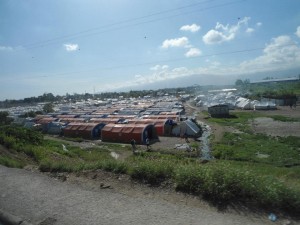 Roads are mostly unpaved, torn apart by the quake, with no resources to rebuild them. Human capital is obviously abundant, but this is where I see the lack of hope. In the fact that so much trash lines the streets, that people have somehow accepted that this is the way life has to be. It is, of course, easy for me to say that.
Coming from the US where we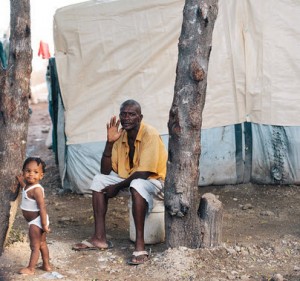 have everything at our fingertips makes it impossible to analyze a situation like this objectively. A lot probably goes back to the same issues we have in the US including a lack of primary education.
When we got back to our hotel we met the two Haitian doctors who would be working with us. Brad and I sat with them for several hours sifting through the medications and learning about 3rd world medicine.
We ate another amazing dinner and spent the rest of the night sorting medications into pre-dosed bags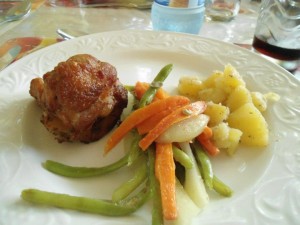 .  We spent some time talking politics and religion. I am the only liberal here. But I held my own, from my perspective people forget the moral issue of poverty etc., etc. in favor of a "moral" issue based on abortion and homosexuality.
Tomorrow we are off to the orphanage. It will be a light day mostly dental work and basic well-child check-ups. The following couple days will constitute the bulk of our work as we will be heading into the mountain villages... And yes in Haiti they still have things like the Plague.
You can view all the photos from our trip here.