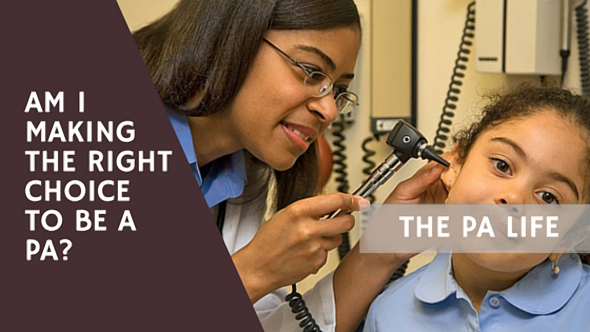 Let me guess.
You are asking yourself:  "Am I am making the right choice of becoming a physician assistant vs. doctor?"
I know how important this question is because it is the same one I asked myself 11 years ago.
As you may have read on the blog, my wife is very happy about my decision.
It is easy for me to answer the PA vs. MD question now, as they say hindsight is 20/20.  But, at the time I was very confused.  I am going to try to set the record straight for those of you on the fence and give you some words of advice:
If you want to have both a rich and fulfilling life AND a career in medicine, a career in which you can make a real impact your patients lives, then you want to choose a career as a physician assistant. 
click to tweet
It is as simple as that!
Below is an email correspondence I had with a reader by the name of Diane. Maybe you can relate to her situation:
Message Body: Hi, I'm a sophomore at Washington State University, and I became a biology major in the spring of last year because I decided I like helping people and I enjoy science and medicine. Originally I wanted to be an Oncologist, but I've decided that becoming a PA would suit me better. I was wondering what your daily life is like as a PA. The main reason I decided to be a PA versus a doctor is because I want to be able to spend time with my future family and not be a stranger to my loved ones. I just want to know if I've made a good choice.
Diane
Life as a Physician Assistant
Here is my response to Diane:
I was pre-med at the University of Washington through my senior year. I changed majors in my 4'th year, not on a whim, but after careful soul-searching. 
Now, I spend three days a week with my family, I enjoy being present (physically and emotionally) as a dad and as a husband.  I enjoy my career as a physician assistant. This is a lifestyle choice.
As a physician assistant, I pride myself on providing excellent care for my patients who are my top priority outside of my relationships with my family and friends. I have never been one to define myself by my career, my career fulfill's another calling, one that is rooted in the loving care of my patients.
I cannot say enough about how much I love my career as a PA, I have never met a PA who says otherwise. I have, on the other hand, met doctors who say otherwise.  I just returned from Haiti where we worked both solo, and alongside doctors providing the full scope of patient care. In clinical practice you would be hard-pressed to tell the difference between myself and one of the doctors in the clinic because our scope of practice is so broad.
It is a wonderful and fulfilling career!
Sincerely,
Stephen Pasquini PA-C
Remember, as Confucius says:
"Choose a job you love, and you will never have to work a day in your life."
I could go on, but I will stop here to avoid being redundant.