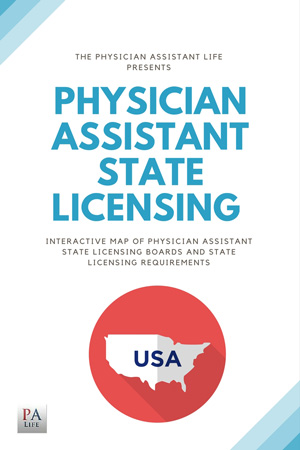 As a freshly minted new graduate PA there are four steps you have to complete to move successfully from program to practice:
Obtain a state license in the state you wish to practice
As a practicing PA, you must renew your current PA license.
Today we are going to look at #2 in this list: obtaining (and renewing) a physician assistant license in the state you wish to practice.
The process starts with your state licensing board.
Interactive map of physician assistant state licensing boards
Statutory and Regulatory Requirements for Initial Licensure and License Renewal
All states require that:
PAs graduate from an accredited PA program and
Not all states require you have NCCPA certification to get your state license.
The chart below indicates PA licensure requirements in each state and the District of Columbia. Initial requirements apply to the initial license sought in a jurisdiction and are found in the first three columns following the jurisdiction.
License renewal requirements are found in the final column. Nearly every jurisdiction requires either a minimum number of continuing medical education (CME) hours, current certification by National Commission on Certification of Physician Assistants (NCCPA), or both as a condition of license renewal.
Some jurisdictions impose additional requirements for applicants who have had an extended break from clinical practice. For these provisions, check the state licensing authority Web site.
| wdt_ID | Jurisdiction | Graduate From Accredited PA Program | Passage of NCCPA Exam (PANCE) | Current NCCPA Certification | Renewal Requirements |
| --- | --- | --- | --- | --- | --- |
| | Jurisdiction | Graduate From Accredited PA Program | Passage of NCCPA Exam (PANCE) | Current NCCPA Certification | Renewal Requirements |
You Must Pay to Play
Every state has their own rules, their own set of fees, process and timeline for application and renewal.
Arizona, for example, has a $125 application fee and a $370 license fee.
Texas has a $220 licensure fee as well as a registration fee of $276 good for 12 months. Here is an example of their online application.
Remember, these fees are going to be on top of your $731  DEA license fee which must be renewed every three years and an NCCPA certification maintenance fee of $150 every two years.
You can talk to your employer about covering some of these expenses, and it may be something worth discussing before you sign the contract.
The entire process usually takes 2-3 months to complete, so you want to get started early.
License Renewals
In my home state of California, the renewal fee is $300 and is paid on a recurring basis every two years. 
It is illegal to practice as a physician assistant with an expired license.
Approximately ten weeks prior to the expiration date of your physician assistant license, a renewal notice will be mailed via U.S. mail to your address of record.
You are responsible for renewing your license even if you don't receive a renewal notice. There are usually two options for license renewal, by mail or online.
Failure to Renew
Practicing as a physician assistant without a renewed license may lead to disciplinary action against your license.
There is usually no renewal grace period. Licenses not renewed by the expiration date are considered "delinquent."
After a license has been in "delinquent" status for five years, the license is automatically canceled. A canceled license may not be reactivated by simply paying delinquent fees and penalties. The physician assistant must apply for a new license and meet the current licensure requirements.