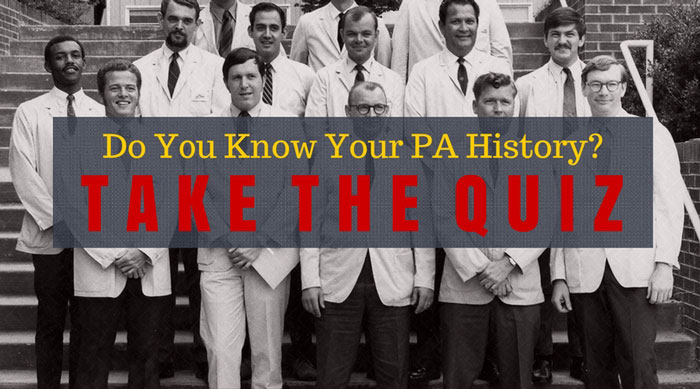 And the answer is . . .
You will have to take the quiz below to find out!
"Whoever wishes to foresee the future must consult the past."
I wish the title of this blog post were an attention grabbing exaggeration, but sadly it is true, I scored a 3 out of 25 on my PA history quiz.
Statistically speaking I would have done better had I let my cat pick the answers.
The truth is, even after 13 years in the PA profession and over three years writing content for this blog, I know very little about the history of my profession.
Which nationally syndicated cartoon comic strip featured a physician assistant as a leading character?
What year was the first national certifying examination for PAs administered?
Which First Lady attended and spoke at an AAPA Annual Conference while her husband was still in office?
Know your PA history and Ace your PA school interview
Want another reason to know your PA history?
When you are preparing for your PA school interview, you must make it a point to have a solid understanding of our profession. It will help you answer questions about why you want to be a PA. You will be able to explain what this means, not just from a personal perspective but a historical one.
How do we as PAs address the many professional challenges ahead? We look to the past and learn from it.
Know your history, and you will be hard wired to impress!
Below is a compilation of five quizzes offered by the Physician Assistant History Society. I have gathered these 25 questions into an interactive quiz that you can take below.
A serious thank you for the amazing work of the PA History Society for celebrating our profession and creating the quiz content.
I encourage you to take time and follow the links embedded in the exam, go down the "rabbit hole," read about and understand every element of our history. It will give you confidence, not only during your PA school interview but as you make a life and career for yourself as a physician assistant.  
Now go ahead and see if you can beat my score.
PHYSICIAN ASSISTANT HISTORY EXAM
Congratulations - you have completed How much do you know about the PA profession. You scored %%SCORE%% out of %%TOTAL%%. Your performance has been rated as %%RATING%%

Your answers are highlighted below.
So how did you fare?  Post your score in the comments section below, and I will send the first three commenters a FREE copy of our new ebook "How to Write Your PA School Personal Statement"... A $15 value!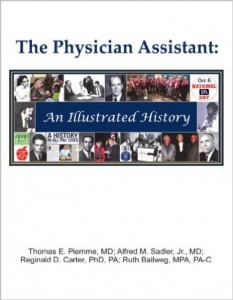 If you want to learn all about the PA profession (which you should, especially if you have an upcoming PA school interview), make sure to spend some time at the Physician Assistant History Society Website, take in some PA History video at PAFLIX or purchase The Physician Assistant: An Illustrated History on Amazon. It will blow the socks of the admissions committee if you show up with this one under your arm! This may be the best $15 you ever spend 🙂
Check out The Physician Assistant: An Illustrated History
Have a beautiful day!
Stephen Pasquini PA-C
You may also like -
How Much Money Do Physician Assistants (PAs) Make?According to the latest NCCPA data, the average projected salary of certified PAs in 2023 is $120,204 per year or $57.74/hour, $10,017/month, and $2,313/week. The median projected annual salary of a PA is $115,000 per year. This is 218% […]
The Top 46 Physician Assistant Applicant Interview Questions Physician Assistant school interviews are extremely challenging. Here is a comprehensive list of forty-six high-frequency pa school interview questions you will likely encounter. This list of the "Top 46 Physician Assistant […]
Podcast Episode 85: Ten Mixed Multiple Choice QuestionsWelcome to episode 85 of the Audio PANCE and PANRE PA Board Review Podcast. Join me as I cover ten PANCE and PANRE Board review questions from the SMARTYPANCE course content following the NCCPA™ content blueprint (download the FREE […]