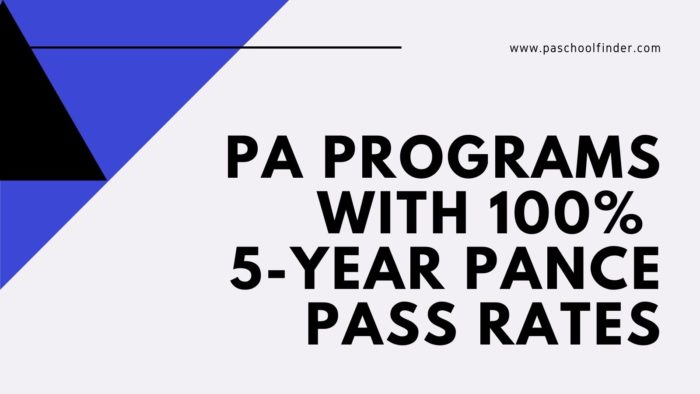 When deciding which PA school to attend, PANCE pass rates often enter the discussion.
Although I agree that five-year PANCE pass rates reflect well on a PA program, I don't believe they should be the most important part of your PA school decision matrices.
Many factors can affect a PA programs PANCE pass rates, and low PANCE pass rates over a couple of years can negatively impact reported 5-year PANCE pass rates. They may not represent the program's overall strength, its faculty, or the student body.
Since 1998 US News has been publishing the only known ranking of PA programs based on subjective peer assessment surveys of PA program faculty.
There are several limitations to this ranking system, not to mention US News only ranks about 64% of PA programs leaving many excellent PA schools out of the mix.
Now that you know this, let's look at the PA programs with a 100% five-year PANCE pass rate.
Just remember it is only one factor in evaluating potential PA schools and should not be the "end all be all" when choosing which PA program(s) to apply to.
Physician Assistant Programs With a 100% PANCE Pass Rate
Use this link for a comprehensive breakdown of PA programs sorted by PANCE pass rates, including all PA programs with PANCE pass rates > 95%.
For a detailed article looking at how PA programs are ranked in the United States, check out our article PA School Ranking by PANCE Pass Rates.
You may also like -
The Perfect PA Program Picker: PA School Search, Sort, Match, and Apply The 2022-2023 PA School Admissions and Requirements Table Search and sort through all accredited and developing PA school programs by healthcare experience, resident and non-resident PA school tuition, PA program duration, GRE […]
Welcome to Your Virtual PA School Clinical Rotation What if you could take a virtual tour through the NCCPA Content Blueprint? Not just mindless memorization of key terms and test-worthy pearls but matching those facts with faces. What if you could go bedside and visit patients […]
Everything You Need to Know About Being a PA (and then some)The ultimate guide to the PA profession - Navigate every aspect from certifying bodies like NCCPA and PAEA to data on applicants, programs, rotations, certification, salary, and the growth of PAs. Learn critical stats on PA schools, the […]