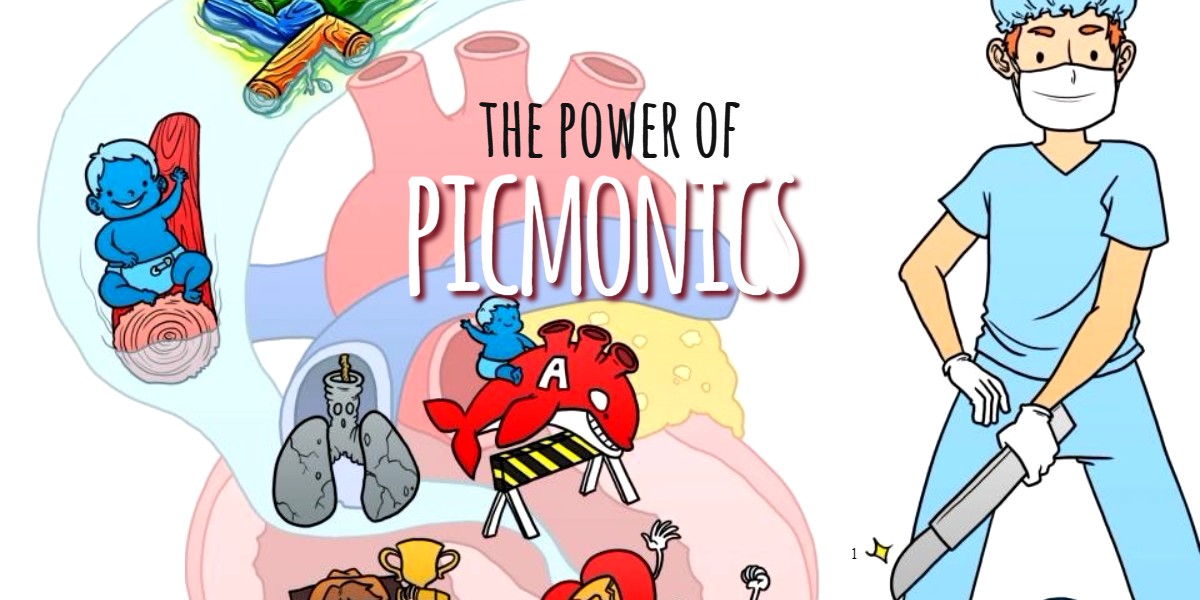 Let's start with a simple question…
You're studying for your PANCE exam, and you need to memorize 1000's of clinical pearls from 467 topics covering 13 content blueprint organ systems, the culmination of two years of hard work and endless pimping from sadistic, but well-intentioned, attending physicians.
How, exactly do you go about memorizing all this information?
Or, let's say you are a second-year PA student on your general surgery rotation and you're called upon by your chief resident to scrub in for an acute appendectomy.
Did I mention he hates your guts because you accidentally chucked a tape load of pubic hair onto his surgical mask while prepping his patient (this actually happened to me by the way).
So, he's gunning for you.
Get 20% off any Picmonic membership click here ⇒
How are you going to remember the boundaries of Hesselbach's triangle or the causes of postoperative fever under such harrowing circumstances?
Or maybe you're a first-year PA student studying for your anatomy exam. How in the world are you going to remember all those bones of the hand? Triquetrium anybody?
Because that's the end goal, right?
To cram as much into your brain in the shortest amount of time humanly possible.
Every day, you spend hours reading, listening and digesting content.
You're hunched over review books, and stacks of notes, racking your brain for attention-grabbing, high yield pearls.
But when you sit down to take your boards, your end of rotation exams or you are being pimped by your pubic hair covered surgical resident you can't distinguish a birds-beak appearance on barium swallow from a dinner fork deformity.
You start to sweat and feel a pain in your chest that is radiating to your left forearm and shoulder. Quick you think, what are the initial steps for the treatment of acute MI? Am I dying?
What if you could avoid such painful incidents? What if your entire understanding of the way to memorize important medical facts is wrong?
There's a better way to remember useful (but dull) medical facts
Here's a little secret…
You can trick your mind into remembering useful but dull facts by weaving the information into vivid mental shorthand.
Indeed, many of the things we would like to be filling our minds with are quickly forgotten.
Think back to that lecture you had on infective endocarditis, such information, when learned, may have been fascinating, significant and empowering, but when first encountered, it just can't compete for memorability with that cute boy sitting across from you.
Here is the version of Duke's Criteria for the diagnosis of infectious endocarditis as you are used to seeing it
Modified Duke Criteria for Diagnosis of Infectious Endocarditis
Definite: 2 major criteria, or 1 major and 3 minor criteria, or 5 minor criteria
Possible: 1 major and 1 minor criteria, or 3 minor criteria
Major clinical criteria

Positive blood culture: isolation of typical microorganism for IE from 2 separate blood cultures or persistently positive blood culture
Single positive blood culture for C. burnetii or antiphase-1 IgG antibody titer >1:800
Positive echocardiogram: presence of vegetation, abscess, or new partial dehiscence of prosthetic valve; must be performed rapidly if IE is suspected
New valvular regurgitation (change in preexisting murmur not sufficient)

Minor criteria

Predisposing heart condition or IV drug use
Fever ≥38.0°C (100.4°F)
Vascular phenomena: major arterial emboli, septic pulmonary infarcts, mycotic aneurysm, intracranial hemorrhage, conjunctival hemorrhage, Janeway lesions
Immunologic phenomena: glomerulonephritis, Osler nodes, Roth spots, rheumatoid factor (RF) Microbiologic evidence: positive blood culture, but not a major criterion (excluding single positive cultures for coagulase-negative staphylococci and organisms that do not cause endocarditis) or serologic evidence of infection likely to cause IE
Do you get all that?
The Power of Picmonics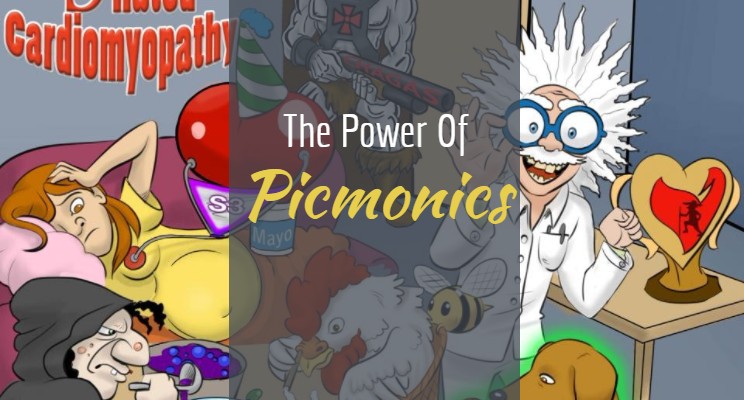 We tend to remember anything that is bright, amusing, vivid, interesting ... basically, anything that evokes an emotion.
Did that chart of Duke's criteria in the box above evoke an emotion? Probably not, which is why it's so easily forgotten.
It should, therefore, come as no surprise that one of the central talents of the memorizer (and teacher) is the ability to transform information that is abstract, non-visual or meaningless into a form so attention-grabbing and bizarre it's completely unforgettable.
And that is what Picmonics are for.
Picmonics are illustrated mnemonics which are imaginative vignettes that reinvent boring, non-visual, easily forgettable information.
Let's look at how a Picmonic can be used to transform those uneventful Duke's Criteria for infective endocarditis into something bright, amusing, vivid, and interesting.
Duke's Criteria for Diagnosis of Infectious Endocarditis (Picmonified)

View this on Picmonic
Try imagining a Duke who drinks away his sorrows with hearts. The thing is he doesn't always keep the place so clean so the hearts become infected, causing internal inflammation otherwise known as endocarditis. You are presented with a scene split into two groups, and just like the Duke Criteria, the larger and closer characters at the bottom of the image represent the major criteria, and two smaller characters at the top represent the minor criteria.
The major criteria:
The Duke and his mater are cheering with two Petri dishes each containing a positive blood culture. They down these dirty drinks and the hearts become infected which leads to endocardial involvement as identified by the echocardiogram, and the hearts develop lessons on their valves and start regurgitating when they drink too much.
The minor criteria:
The barkeep is a fever-beaver, who pours these dirty flaming drinks that lead to heart inflammation. It's dark outside, and the moon is full, causing immunologic phenomena, where bacteria break into the pub and invade the vascular tap system, causing vascular phenomena.
This all happens in full view of another heart at the bar. However, he neither sees nor cares as he is more focused on his IV drugs.
And finally, you can see the beaver barkeep is pouring only a single positive blood culture, which represents microbiological evidence, as opposed to two positive cultures which are required to qualify as a major criterion.
Now for the diagnosis:
If your patient meets two major criteria, one major criterion, and three minor criteria, or five minor criteria, then you can be confident that infective endocarditis is the correct diagnosis. And you can recall this as the menu at the bar.
Ok, quick can you tell me the two major criteria?
The trick to memorization is to link an image to the word's meaning via an engaging scene!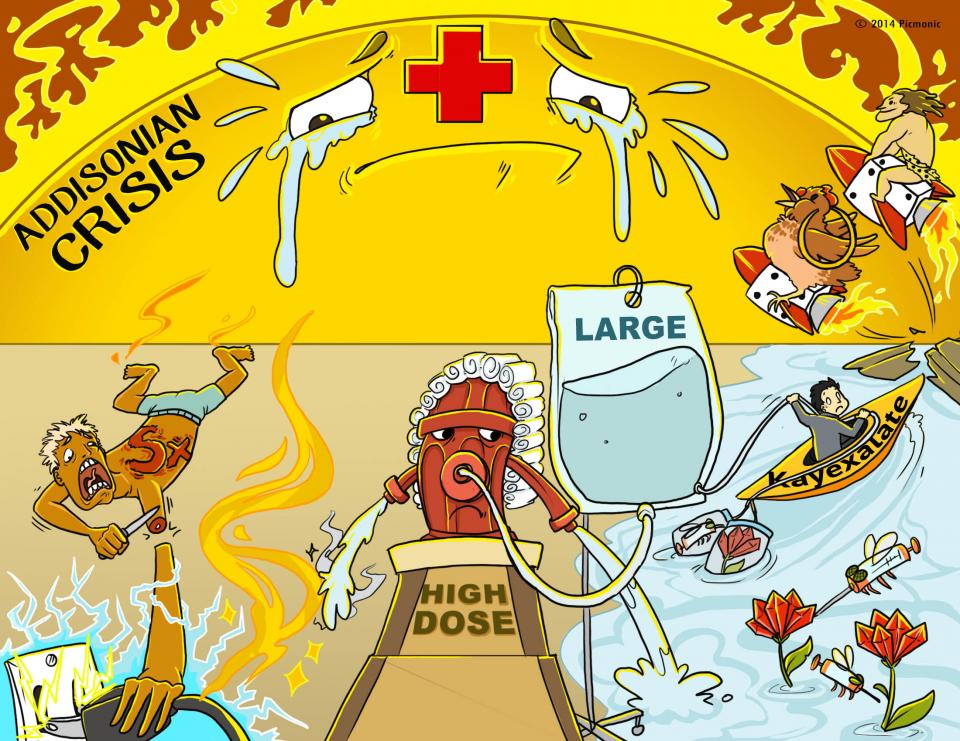 The solution to remembering anything it to use your imagination to make boring medical facts more interesting.
Instead of trying to force feed long, dry, hard to remember medical facts down your throat, grab a seat at the bar of hearts, and drink the Picmonic cocktail.
With over 35,000 high yield facts, research-proven studies showing a 50% increase in exam scores after just one week of using Picmonic and a 331% increase in long-term retention of high yield information. The question isn't if Picmonics can improve your scores but by how much.
Just don't come crying to me if the fever bever and his infected hearts or the crown of Crohn's intestines start to haunt you!
Get 20% OFF Picmonic + SMARTYPANCE integration
My SMARTYANCE board review is integrated with Picmonic mnemonics weaving medical mnemonics into the NCCPA PANCE and PANRE content blueprint. You can read more about this here.
Picmonic offers a FREE basic membership and has sweetened the pot by giving a 20% OFF discount to THE PA LIFE readers. To use this discount just click the button below.
Get 20% OFF Picmonic ⇒ Click Here
Best of luck in life and in all your studies. And a big shout out to Ron Robertson, the CEO of Picmonic, for his generosity and all his work in making learning fun!
Warmly, Stephen Pasquini PA-C