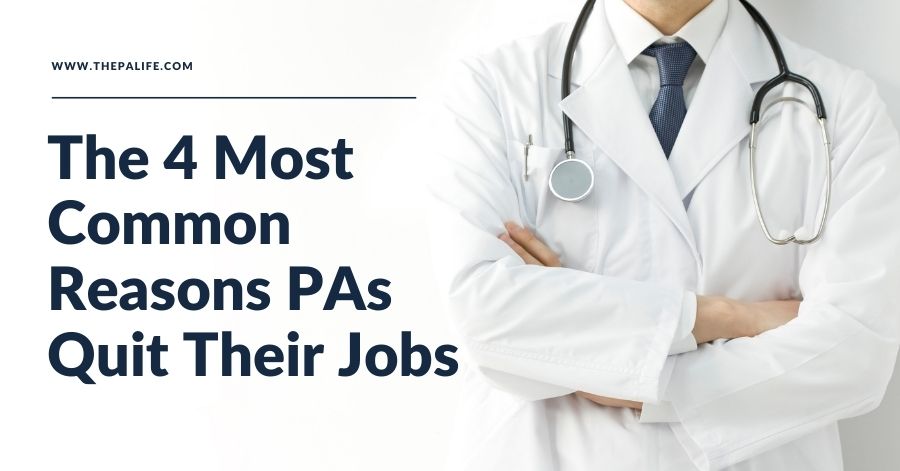 According to a new AAPA research article (August 2021), the four most common reasons PAs quit their jobs are:
Better work/life balance (16.8%)
Moving to a new location (16.7%)
Better management/leadership/environment (reasons related to a toxic/abusive environment) (13.6%)
Better compensation/benefits (11.9%)
Other reasons PAs left their jobs included
Better professional/clinical opportunities (6.6%)
Corporate or external factors forced job change (for example, closed, lost contract, restructuring, company failing) (5.8%)
Opportunity to switch to a new clinical focus/specialty (5.6%)
Completed education or postgraduate program (5.3%)
Personal reasons/life change (4.4%)
Better management/leadership/environment (reasons unrelated to toxic/abusive environment) (3.1%)
Better commute (2.3%)
Reentered workforce following extended leave (for example, unemployment, sabbatical) (0.8%)
Left workforce to retire or take extended leave of absence (0.6%)
Left or joined military (0.6%)
Other (5.9%)
PAs quitting their jobs is important. When a PA leaves, it costs employers a lot of time and money, which can be bad for everybody.
Despite high career satisfaction, PAs have a turnover rate similar to physicians, and according to research replacing one PA can cost 100% to 200% of their annual salary.
Understanding why PAs quit and, more importantly, fixing it should be a major focus for institutions looking to retain and attract talent.
Today I am going to discuss the top four reasons why PAs choose to quit their job in a bit more detail.
#4 Better compensation/benefits
What may surprise many of you is that #4 on this list of reasons PAs leave their jobs is directly related to pay.
You would think that compensation may be the #1 reason PAs seek greener pastures. But this research proves that once PAs make enough money to satisfy their basic needs (plus a few others ?), the nonrenewable resources of time and life satisfaction often take precedence.
I recently left a well-paying private practice gig and accepted a lower-salaried position to pursue my dream career.
One could argue that doing what one wants in life (despite the almighty dollar) is a luxury afforded to those with the financial means to pursue their passions. But it is much more nuanced than that.
No one would criticize a PA for leaving a job in search of appropriate compensation. But if you are considering this route, remember the exorbitant cost of rehiring, as mentioned above. If you enjoy your place of employment and have proven value, you can always negotiate before leaving solely for pay.
Choosing reason #4 (more pay) to leave your current job can lead to #3 (toxic/abusive environment) if dollar signs are your main objective. I have seen it happen. Don't be afraid to make the administration aware of your value and always weigh your options.
#3 Better management, leadership, environment (reasons related to a toxic or abusive environment)
The third most common reason PAs leave their job is for reasons related to toxic/abusive environment.
I have personally seen this A LOT in prior places of employment. Toxic environments created by supervising physicians and abusive coworkers or managers can create an unhealthy environment that is hard to mitigate.
I have left a job in the past due to stress created by a demanding supervising MD who (despite his best intentions) created an environment filled with anxiety and turmoil.
I have contemplated leaving workplaces associated with threatening leadership and watched as hospitals fell apart as clinicians and staff jumped ship seeking better places of refuge.
Research provided in the article found that 40% of PAs had quit a job in the past because of workplace stress, and this comes as no surprise.
Clinics and hospitals, and clinician-owned practices would be smart to pay attention to this research. While it is hard to avoid inter-office politics and "drama," much of the turmoil we face has to do with poor leadership that is oriented from the top-down.
#2 Moving to a new location
The second-most common reason for PAs changing employers was that they moved away from their current employment.
The majority of Americans move for one of five reasons:
A new or better home/apartment (15%)
A family reason (other than getting married or starting a household) (15%)
A housing reason (other than wanting a new or cheaper house, better neighborhood, etc.) (14%)
To establish own household (10%)
New job or job transfer (9%)
Your income as a physician assistant is deeply tied to where you live. Connecticut had the highest salary for PAs at $137,060. Salinas, California, was the top-paying metropolitan area with an annual salary of $161,370. But according to data from the latest AAPA salary report, your true wage has a lot more to do with factors related to the cost of living.
#1 Better work-life balance
The most common reason PAs reported changing employers was for better work-life balance.
According to the AAPA research article "employers may be limited by the demands of an industry tasked with providing around-the-clock patient care to address work-life balance effectively."
I would argue otherwise that the around-the-clock 24/7 nature of healthcare gives employers a perfect chance to work with employees to create a healthy lifestyle best suited for everyone.
Employers should offer more options for twenty or 30-hour workweeks and flexible (or reduced) schedules. They should make accommodations for career sabbaticals and extended (or short-term) leave. With the advent of telehealth and remote work blossoming during the COVID-19 pandemic, employers can offer work-from-home options. They should all make time for clinicians to complete administrative work as part of their scheduled work time instead of pushing it into their unpaid hours.
Work-life balance is attainable. Many administrators are too lazy, or employees are too afraid to ask for (or demand) what we need. And of course, until we separate benefits (particularly healthcare) from employment, this will continue to cause problems as employers will be stuck holding the bill, and employees have few options. I am hopeful this will change.
Have you left a job recently? We would love to know why in the comments section!
You may also like -
How Much Money Do Physician Assistants (PAs) Make?According to the latest NCCPA data, the average projected salary of certified PAs in 2023 is $120,204 per year or $57.74/hour, $10,017/month, and $2,313/week. The median projected annual salary of a PA is $115,000 per year. This is 218% […]
Your Main Goal on Your Path to PA Shouldn't be Immediate Success or Money, But to Learn as Much as PossibleYour primary goal as a new physician assistant or as someone hoping to become one should not be immediate success or money, but to learn as much as possible. When people look for a "way in" to a particular field – an internship or first […]
The Physician Assistant Interview: Thank You and Follow-up (With Sample) Many people forget the post-interview work that needs to be done during the PA job search. They assume the interview happens, they either get the job or don't get it, and it's over. But in many cases, the interview is not the […]