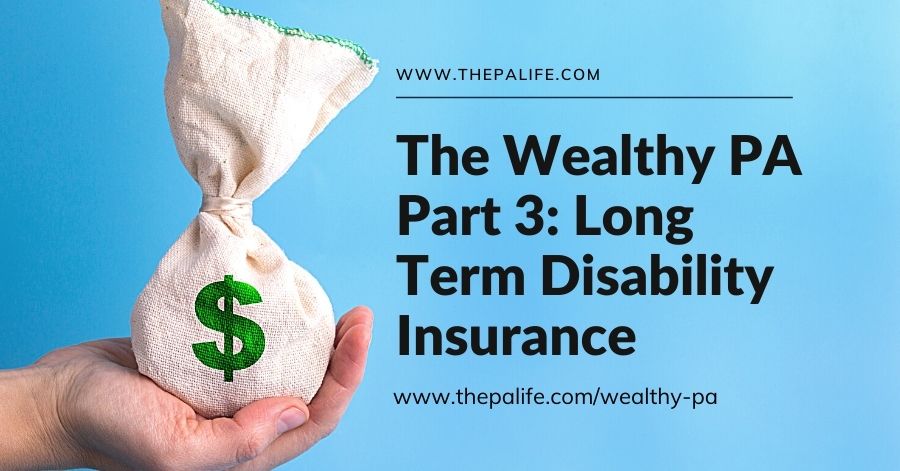 If you lost the ability to work as a physician assistant, could you afford to live?
Roughly 30% of the population will find themselves with a long-term disability over a full working career. About one in seven people ages 35-65 can expect to become disabled for five years or longer.
Many people think they are covered through their work, but here's a newsflash - you're probably not.
State Disability is temporary, and Social Security Disability is notoriously difficult to get approved for and only covers a fraction of your income.
The supplemental disability insurance offered by most employers is often short-term, covering only months of living expenses.
Therefore, you need to purchase your own long-term disability insurance either through your employer or an independent agent.
Being covered by disability insurance is one of the most important financial decisions you need to make, and we consider this mandatory insurance to own!
What is disability insurance?
If you are unable to work or unable to work as effectively as you normally would be due to a physical or mental ailment, disability insurance replaces your income
For most working people, their greatest financial "asset" is their ability to work and earn a living
Disability insurance provides financial protection for that most important asset
Why do you need disability insurance as a physician assistant?
Unless you already can retire (financially), virtually every high-income professional should have disability coverage
If you were to be disabled for a significant period of time without disability coverage, you would experience significant financial hardship or ruin
Everything you worked so hard for during your schooling and career can be decimated in a short period of time
What type of disability insurance should a PA purchase?
There are two types of disability insurance:

Short-term disability insurance offers you a portion of your salary if you are unable to work for a brief period (3-6 months)

Long-term disability insurance offers you a portion of your salary if you are unable to work for a longer period of time. The benefits last until you can go back to work or for the number of years stated in the policy. Some policies pay out as long as you are disabled until age 67
We care much more about you having long-term disability insurance
Short-term disability insurance is not needed if you already saved for an emergency fund
What if my employer offers group disability insurance?
Some employers may offer you group disability insurance as part of your benefit package

If they do, make sure you review the policy with an agent to ensure it provides adequate coverage!

An important detail on group disability plans that is not often mentioned is that the definition of disability in your group disability policy typically changes after 2 years of disability

This puts you at risk of no longer receiving benefits if you are still out of work due to sickness or injury

If your employer does not provide disability insurance (many will not), you need to work with an independent agent to purchase an individual policy
How much disability insurance do you need as a physician assistant?
For individual policies, typically the highest benefit you can get will range between 40% and 70% of your income.
Group policies typically provide 60% of your income up to a certain monthly cap, however, the benefits are taxable
You want to aim to have at least 60% of your income covered
How much will disability insurance cost you as a PA?
A typical individual disability insurance policy will cost you 1-3% of the amount of income you are protecting
If you are a professional under age 30, the premiums for a good quality individual disability policy can typically be "locked-in" for somewhere between $100 to $300 per month
Every year that you wait, it becomes more costly, and you risk the ability to get the coverage if your health declines
How do you purchase long-term disability insurance as a PA?
Meet with a good independent disability insurance agent to discuss your situation and options. By independent, we mean that they can sell you policies from several different companies, not just one
When you work with an independent agent, you'll need to provide them with additional information such as your age, gender, health, specialty, a state where you live and work, etc.
They will then discuss policies available from each company with you. They should also help you compare them to your employer's group policy
A good agent will be happy to teach you all about disability insurance, so make sure they review and explain the policy with you in detail
Need help navigating the insurance landscape?
We offer one-on-one consulting specifically designed for PAs!
You can follow this link to learn more about our financial consulting services.
About the author: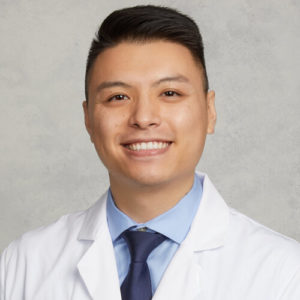 Wilson is a practicing inpatient oncology physician assistant and assistant professor. After graduation, he completed a PA Educator Fellowship at Touro University California and a Cancer Care Fellowship at Stanford. In addition to his clinical and academic roles, he has a passion for finance! He is the proud co-founder of APP Finance Clinic and enjoys helping guide physician assistants through their finances from graduation to retirement. (Read about Wilson's story here or click here to book a PA Finance consultation)
You may also like -
The Wealthy PA Part One: Are PAs Wealthy? Having a PA degree confers wealth status. With the average annual salary of certified PAs estimated at $120,204 and a median annual salary of $115,000, as a PA, you will be in the top quartile of earners in the United […]
The Wealthy PA Part 2: The Three Student Loan Repayment Strategies With soaring tuition costs, student loans are now one of the largest sources of consumer debt outside of mortgages. The average PA student graduates with $100,000 - $200,000 in student loan debt. For comparison, the average […]
Scholarships, Grants and Loan Repayment Programs for Physician AssistantsPA School is Expensive It goes without saying PA school is expensive. PA school is also demanding, which means you will have limited time (if any) to work while attending school. With the average undergraduate education debt prior to PA […]