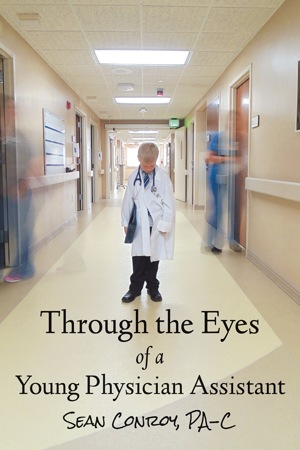 My Name is Sean Conroy, I am a Physician Assistant, and I wrote a book.
The question I encounter the most is "What inspired you to write a book?"
The answer is not straightforward.
As PAs, we all have experiences that change us, some touching, some devastating, some hilarious.
I don't claim that mine are any greater than anyone else's, or that I was moved in a way different from anyone else.
The only answer I have offered so far is that one patient moved me more than any of the rest. His story stayed in my mind, begging to be told.
In my introduction, I discuss how this patient inspired me: a war veteran facing his approaching death from pancreatic cancer, in a way only a hardened soldier could.
Stoic, with resolve, and with as much strength as he could, muster, not only for himself but for his family as they suffered helplessly alongside him.
The more I thought about his story and yearned to share it, the more other stories also leaped to mind, begging to be shared as well.
It was in 2011, while in my first position in Kansas City, that I decided it would be best to just start from day one on my rotations, and jot down some stories. I would work my way up to the Internal Medicine rotation featuring my pancreatic cancer patient, then move on to the final, and greatest chapter: ED/Trauma.
Getting Started
For years this word document was titled simply "Book Idea." Little by little it grew, a paragraph here, sometimes pages at a time.
I likely could have made an entire book out of my final rotation. After almost a year of seeing patients, and one of just about everything, not a day went by without a new surprise.
I enjoyed this rotation the most, saw the widest variety of patients, and had the most extreme emotional roller-coaster ride of any I experienced in PA school.
That being said, I did not want half the book to be all emergency medicine, so though it runs the longest, I tried to keep it reasonable.
My PA program (Union College, Lincoln Nebraska) did ask to review the manuscript early, to make certain it was HIPAA kosher, and quickly signed off on the project. I think that is another part of the answer to the original question: I had so much support from my wife, family, colleagues, and PA program that I kept moving forward, even after growing weary about a year after I initially began.
There were so many people who believed in me, so it was easy to believe in myself and push forward after this brief pause in momentum.
After about three years the manuscript was complete, and with prodding from my wife I began the process of inquiry to publishers with hopes of my book being delivered into the world. I counted my rejection letters, just for fun, hoping that in the end, I had at least one acceptance letter.
Dealing with Rejection
Fifty-three rejection letters, spread out over a year; followed by two letters of acceptance in the same week (then five more rejections.)
Some rejections were very impersonal "Dear Author,..", others stinging with the criticism I certainly needed as I entered the world of publication with no guidance. It was due to the assistance in learning the ropes, as well as the faith they expressed in the book moving forward that led me to select Open Books Press out of the two publishers who accepted the manuscript.
I have to admit that it has been a wonderful experience, and very fulfilling. I have had a few colleagues tell me that the book would be perfect for pre-PA, and PA students to read prior to PA school and rotations, respectively.
If I had not become a PA I might have gone into education, likely at the college level. Thus, I am very flattered by this assessment, and the idea that my book might become part of the PA curriculum, much like The House of God has been for medicine in general for decades now.
For the time being though, I am happy to just sit back and look forward to the release of the book in May. I do hope it succeeds, but already feel like I have accomplished a great deal just in seeing it to publication.
About the Book
Through the Eyes of a Young Physician Assistant
Sean Conroy started his career in the lab but had a burning desire to enter the clinical side of medicine as a physician assistant.
After completing the first two years of book work, he spent a year learning from doctors, physician assistants, nurse practitioners, and others on the front lines of medicine in hospitals and clinics across the state of Nebraska. He entered his first family practice rotation as a well-spoken but inexperienced PA student, and in under a year was bedside with severely ill and injured patients in one of Nebraska's busiest level-one trauma centers.
This memoir follows Conroy around the state, from one rotation to another, as he grows in knowledge and maturity. It tells the tales (some humorous, some harrowing, and occasionally heartbreaking) of patient encounters in a wide variety of settings with individuals from all walks of life.
From the delivery of a newborn to the terminally ill at the end of their lives, and many in between, Through the Eyes of a Young Physician Assistant will leave you laughing and crying and with a deeper appreciation of PAs.
The book is now available for pre-order through Amazon.
About the Author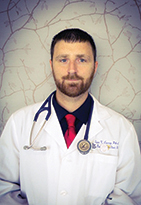 Sean Conroy PA-C was born and raised in McCook, Nebraska. He matriculated first from Chadron State College in Chadron, Nebraska with a bachelor's in biology (human biology option), then the University of Nebraska Medical Center in Omaha, Nebraska with a bachelor's in clinical laboratory science.
He concluded his studies with a master's in physician assistant studies from Union College in Lincoln, Nebraska. He has practiced medicine in Kansas in primary care, including family practice and emergency medicine, since 2010 and a physician assistant at Manhattan Urgent Care in Manhattan, Kansas.
Connect with Sean on his website, Facebook or Twitter
Made by PA
Note: This is the first post in a series I am calling "Made by PA" which features PAs who inspire us through their work and their creations. This post is by physician assistant extraordinaire and first-time author Sean Conroy PA-C. If you or someone you know is a PA and is making the world a better place through their creations I would love to feature your work here on the blog. Just drop me a line and send me the details.