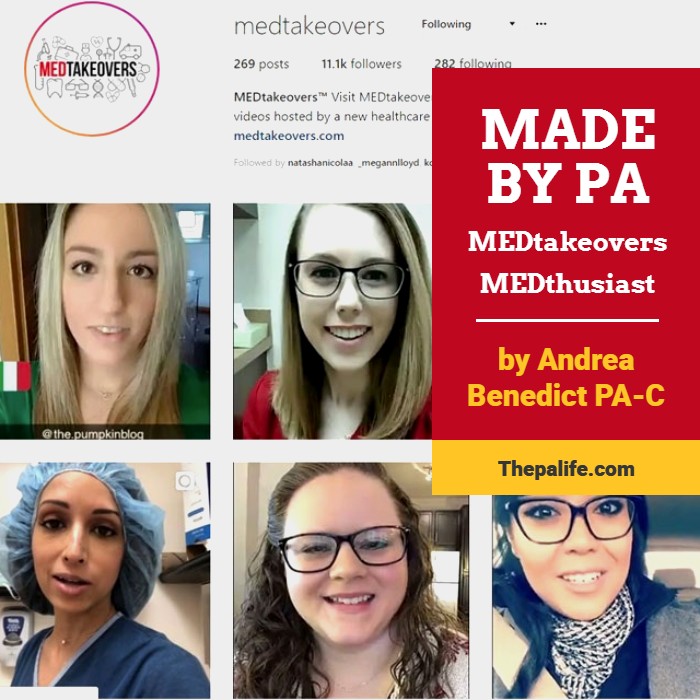 MEDtakeovers
Medtakeovers' creator and physician assistant extraordinaire, Andrea Benedict, launched this platform in 2016 to provide interested premeds and future healthcare professionals a behind-the-scenes look at various careers in medicine.
MEDtakeovers is built upon a social media platform that allows healthcare professionals to bring you along with them for a day in their life as well as answer all of your burning questions.
Instead of scripted and rehearsed videos, you get candid and authentic insiders perspective of various health care professions, so you have a more accurate representation of what it's like working in medicine.
MEDtakeovers will help you find answers to questions like
"How can I become a surgeon?"
"How hard is medical school?"
"What is the difference between a PA vs. NP"
"What is a Physician Assistant?"
"What is the role of a nurse?"
And many, many other questions!
Our goal is to provide you with a behind-the-scenes look at various careers in medicine to help you choose which healthcare career is right for you! - Andrea Benedict, Medtakovers
Medtakovers started as a simple Instagram page which now has over 11.1k followers and growing. New videos are uploaded daily!
Andrea recently launched a companion website, with plenty of free videos and new premium access that allows you to watch videos sorted by healthcare career. The list includes 34 career options.
Anesthesiologist Assistant (AA)
Audiologist
Certified Nursing Assistant (CNA) / Patient Care Technician (PCT)
Chiropractor
Clinical Laboratory Scientist (CLS)
Certified Nurse Midwife (CNM)
Certified Registered Nurse Anesthetist (CRNA)
Dental Hygienist
Dentist
Doctor / Physician
Emergency Medical Technician (EMT)
Funeral Director / Mortician
Hospital Administrator
Medical Assistant
Nuclear Medicine Technologist
Nurse
Nurse Practitioner (NP)
Occupational Therapist (OT)
Optometrist
Paramedic
Pathologists' Assistant
Perfusionist
Pharmacist
Phlebotomist
Physical Therapist (PT)
Physician Assistant (PA)
Podiatrist
Radiologic Technologist
Registered Dietician
Respiratory Therapist
Scribe
Speech Language Pathologist
Sonographer
Surgical Technologist
With plenty of free videos and memberships priced at just $19.88 for the year or $3.99 for a monthly, you can't go wrong.
This website is truly a gem if you are trying to decide what career to pursue in the ever-growing world of medicine. Get a real insider's look at just about every possible medical career out there.
Medthusiast
Andrea is also the owner and creator of medthusiast.com (21k followers on Instagram) where she creates fantastic custom apparel for true medical geeks like myself.
Medthusiast has creative custom apparel that you can't find anywhere else.
Thank you, Andrea, for teaching me the best way to a woman's heart. I am relieved to know it is between the 5'th and 6'th ribs and not diamonds!
Andrea Benedict PA-C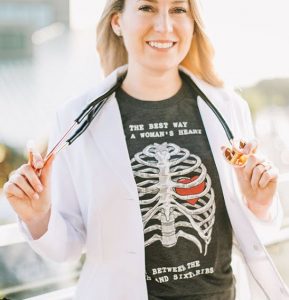 Even with all this, Andrea somehow finds time to work as a pediatric critical care PA, post epic videos to her YouTube channel, craft posts on her personal website, Instagram, Snapchat and well . . just about anywhere else the web can find you.
I am truly inspired by all that Andrea has created and how she pushes the PA professions forward with her unique energy and exceptionally creative spirit.
This makes Andrea a true MADE BY PA Rockstar.
Here are just some of the places where you can find Andrea and all her awesome goodness:
Made by PA is a series dedicated to honoring ROCKSTARS in the PA community. Do you have something "Made by PA" you would like featured on the blog? Just let me know!
You may also like -
Made by PA: Through the Eyes of a Young Physician AssistantMy Name is Sean Conroy, I am a Physician Assistant, and I wrote a book. The question I encounter the most is "What inspired you to write a book?" The answer is not straightforward. As PAs, we all have experiences that change us, […]
Made by PA: The Applicant's Manual of Physician Assistant ProgramsThe 2018 Applicant's Manual of Physician Assistant Programs The Applicant's Manual of Physician Assistant Programs written by Mark Volpe, MPH, MMSc, PA-C and Brittany Hogan PA-S, provides prospective PA program applicants with detailed […]
Made by PA: Labulator is an app to help expand differential diagnoses via laboratory resultsLabulator isn't your average lab values app! It's an intersection between medicine and technology and an educational tool to help clinicians, medical students, and healthcare professionals better interpret laboratory data. Designed by […]