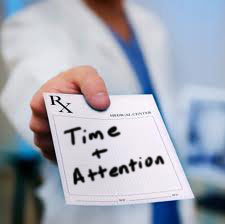 Sometimes what your patient really needs is your time and attention.
This, of course, is not just true in your medical practice but applies to your life in general.
We get so caught up with things that can be measured. We look to our prescriptions pads for the answer.
But I will tell you this: What people need is to feel listened to and to know that you value their opinion.
We are often in such a hurry to get to the next patient. I understand this is usually not your fault. But if you take the time to give the patient what they truly need, you will have an office full of patients.
Patients that are healthier and better off because you gave them what they really needed.
Not just another prescription.
You may also like -
How to Become a Physician Assistant (PA) in 8 Easy Steps So, you want to become a physician assistant? Congratulations, you have taken the first step on a lifelong journey filled with many joys, significant struggles, and a lifetime of free pastries. Becoming a PA is relatively […]
7 Tips for Addressing Shortcomings in Your PA School Personal StatementWhat makes the perfect PA school candidate? Someone with stellar grades from a top university, loads of patient care experience, countless shadowing hours, and a long list of community service endeavors, right? Oh, and Ms. Perfect […]
What is the Number One Regret People Have in Life? The ward was bleak. Always eerily quiet. A clinical world where clock ticks seemed to scream and that vile smell attacked more than the air, the walls, and the floors. It attached itself to the people themselves as if they, too, […]