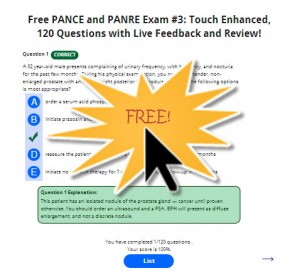 I am happy to announce that the free PANCE and PANRE practice exams are finally up and running!
There were a few technical hurdles to overcome, but I have worked out most of the kinks with the exam professor software.
I want to thank everyone who has taken the time to send me corrections on the exams. I have been updating them as best as I can.
I am also excited to announce that I will be adding four more practice exams in the upcoming months.
You can access the FREE exams here:
Free PANCE and PANRE Practice Exams (Start Page)