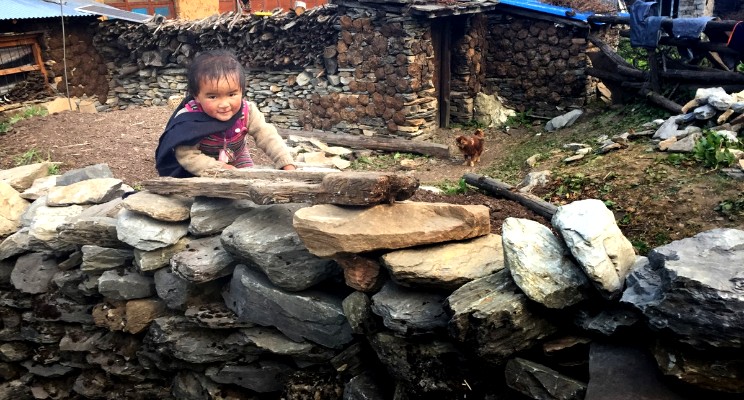 Written by Rabindra Adhikary, Nepali optometrist, and edited by Maria Ontiveros, team member. The essay originally appeared in Setopati, a Nepali digital newspaper. The Tsum Valley Medical Mission is recruiting physician assistants for its October 2018 fall effort.
"These Himalayas are proof that God is real and that he loves us," a delightful Canadian woman told us just as we began to tire from the day's exertions on the challenging trail to Tsum Valley.
The Tsum, located on the northern side of Gorkha district in Nepal and neighboring Tibet, is a valley carved by the Shear River that flows from a gorge between 21,000-plus foot Ganesh Himal and Shringi Himal, the sacred, prohibited Buddha Himal towering beyond. The word Tsum is derived from the Tibetan word 'Tsombo', which means "clear."
This meaning resonated with the Western doctors and nurses who chose to embark on the month-long medical mission trip to clear up the ailments and diseases of the Tsumpas, as the people call themselves, but also to help clear the confusing emotions that arise from the loss of a loved one.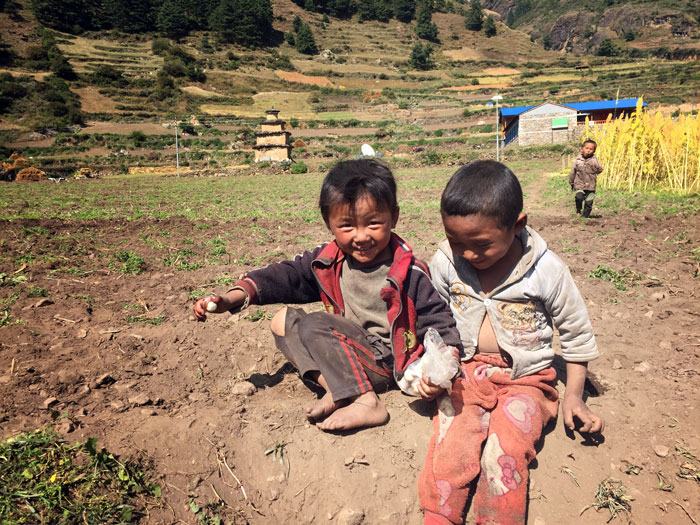 We were a group of 15 medical professionals on a trip of fact-finding, capacity-building and care provision. The organizer, Rachel Frazin, a family nurse practitioner from Minnesota, had lost her daughter to suicide by overdose, a story which attracted several of our volunteers who hoped to mend their hearts while mending others' wounds. The rest of us found ourselves empathizing with their losses as we walked in the shadows of the Himalaya during the one-year anniversary of the Gorkha earthquakes.
We started out on the busy Manaslu circuit where tourists of all ages trek, breathing heavily through smiles. The Nepali among us wondered why these fair-complexioned people from other parts of the planet flock here to embark on a trek in which a misstep cliff side could spell serious injury or even death. We imagined that these first worlders accustomed to the luxuries of running hot water and pillow-top mattresses hoped to discover happiness through the Himalayan sublimity.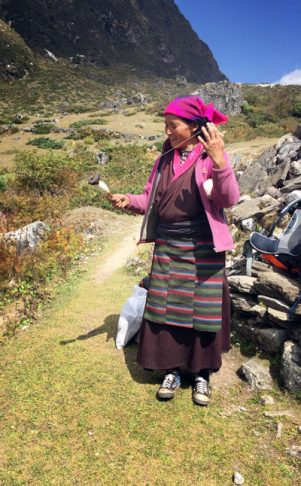 They likely long for simpler times, for primitive dwellings and farm fields with a view of the snow-capped giants. It was all a palaver for a Himalayan native like me.
These mountains may captivate but inconvenience accompanies life in the mountains, like the week-long walk to obtain professional medical care. For foreigners, though, a week without engine-driven vehicles had a profound impact on peace of mind.
A minibus traveling from Kathmandu bumped its way through rutted road to reach the district town of Arughat late afternoon on the 4th of April, unloading our weary group at the guesthouse front gate. Mr. Tanzin Lama, our energetic young trekking guide, assigned each volunteer a bed in shared rooms and set a time for dinner.
The non-vegetarians enjoyed one of the last meat-based meals before entering the 'no-kill' zone of the Tsum Valley, a region that has honored an oath of nonviolence since 1921 when it is said that the honorable Lama Serap Dorje requested the villagers to do so.
The villagers have renewed the oath time and time again. The Manaslu Conservation Area also prohibits bonfires, hunting wild game and taking honey from natural beehives. The Tsum is perhaps one of the most untouched Tibetan Buddhist cultures in the world, including Tibet, which has been culturally ravaged by the Chinese government.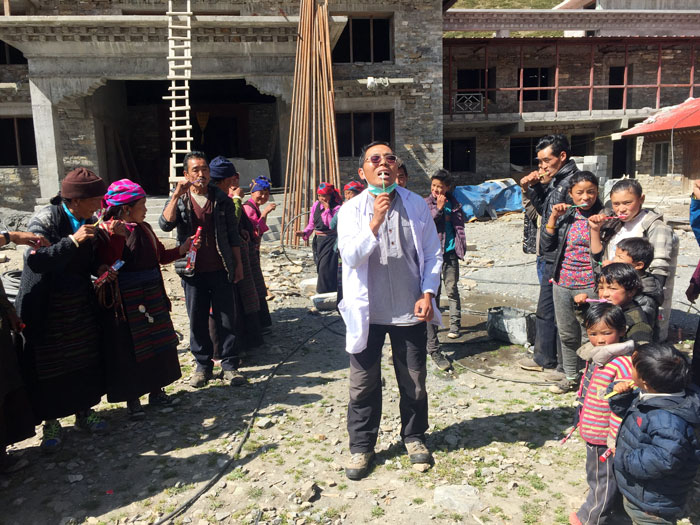 The 5th of April began with a three-hour warm-up hike along the motorable road to Sotikhola where we stopped for lunch. The afternoon revealed the true trail, full of bumps and stones, and mule poo and piss.
Having never trekked before, I couldn't imagine my olfactory system would grow accustomed to that heavy aroma. Days later, mule poo became the litmus test that kept us from losing the trail when we raced ahead or trailed too far behind our guide.
The first full trek day, we barely made it to our accommodation in Lhapubesi before the sun had set. Lhapu is perched high up the mountain. A barren and vertically land-slipped hill faced us from across the river, green maize shoots skirting the riverfront.
The foreigners experienced profound gratitude knowing that every man-made object in sight was at some point carried in by donkey, mule, man, woman or child on the same rugged trail we had traversed. Every sip of beer and roll of toilet paper was given a moment of appreciative pause.
The next day, two hours before reaching Machhikhola, we encountered a man carrying an older gentleman in the traditional bamboo doko, a multi-purpose basket that serves as an ambulance in the roadless mountains. Oblivious of our medical expertise, the wounded man's wife and neighbor worked their way down the pebble-strewn beach. When we inquired, they reluctantly told us that the old man had broken his right leg. They were carrying him to the nearest hospital, a four-day journey.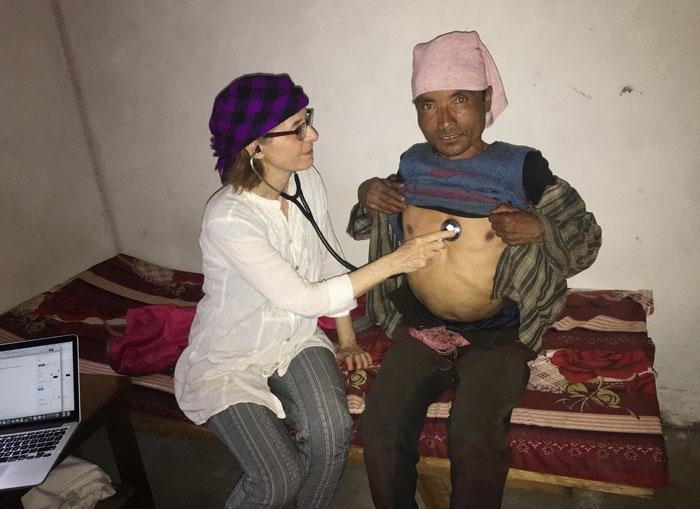 Our team physician from Australia offered to help, using a portable ultrasound device to evaluate his ankle, which appeared to be sprained, not fractured. With the help of another team member, he applied a plaster splint alongside the banks of the Kali Gandaki River.
The stream running alongside the village of Machhikhola, our destination for the day, was handy for cooling bottles of beer and dipping trail-weary feet. Several team members practiced yoga on the sandy beach.
The following day we passed, Patopani, a hot spring that flows down massive rocks. Its tingling hot water washed away perspiration and trail dust, leaving us refreshed. Locals walk for days to reach the hot spring in the belief that a single bath can eliminate their skin diseases for good.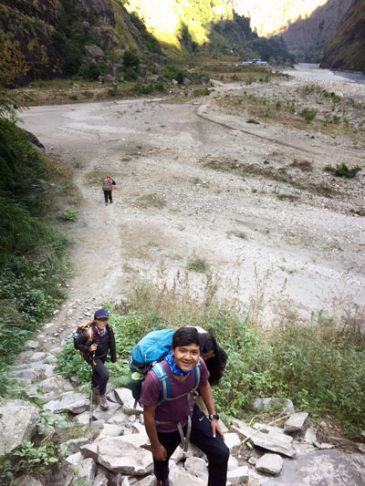 Our next destination, Jagat, a popular overnight, is a clean town with neatly laid stones along its paths. A few volunteers stayed up to watch movies on their laptops but most of us hit the hay.
We noted the landslides that have reshaped the landscape, intermittently resculpting the path so that timber must be felled for the occasional bridge to cross streams.
The gushing river, which at first had inspired fear and awe, became a comforting feature in the landscape as we gradually ascended toward Lokpa, our first foray into Tsum itself. Trains of load-bearing mules and donkeys driven by their yipping herders became less frequent once we turned off the busy Manaslu trail for Tsum, which is a spur trail that dead ends in the wilderness near the Tibetan border crossing. Our curiosity about what lay behind each curve energized us to keep on trekking despite our weary muscles.
In fear of twisting ankles out of distraction, some of the Westerners decided not to talk with anyone else in order to concentrate on their footing. We Nepali, who were raised to be rugged trail runners, not mere walkers, found their silence uncomfortable.
The further we ascended, the higher the prices. The price of a bottle of water started at 20 rupees (cents) and increased by ten rupees with each new settlement due to the transportation cost. Team members employed a variety of methods for water purification other than plastic bottled water including chlorine tablets, Sawyer filtration systems, and Steri-pens with UV-lights.
Even with precautions, most of the foreigners contracted traveler's diarrhea, which lasted only a day or tw. One exception was a clinician who hadn't hydrated well enough and required intravenous fluids and electrolytes in order to quickly bounce back for the trek. The First Aid pack we carry saved the day.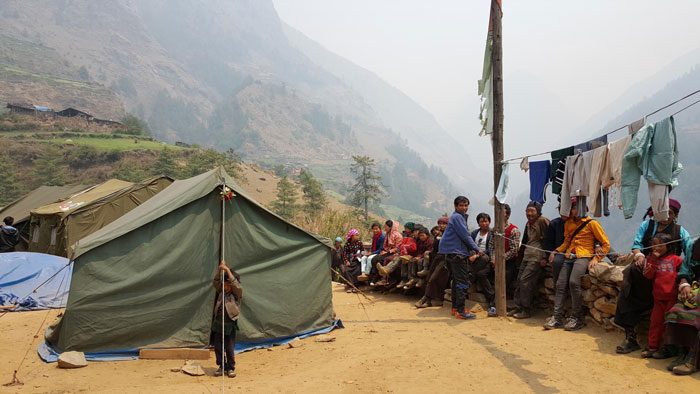 After five days of trekking, we reached Chumling, where we conducted a four-day comprehensive camp for the villagers of the Lower Tsum. Gopal Dai, the village leader, and a hard-working man, hosted us, providing accommodations and space on his property for three large tents that served as a makeshift clinic.
The houses in the Tsum are made from stones trundled from the hills. The 2015 earthquakes destroyed 90% of the houses and farming structures in the valley. The Tsumpas are rebuilding in the traditional but precarious way, without mortar. In anticipation of the next quake, many families have compromised centuries-old custom by roofing with tin sheets rather than flat stones.
Each patient underwent a comprehensive medical evaluation with appropriate interventions according to diagnoses made. In the triage tent, vital signs and a vision screen were done, and each patient was given a toothbrush and medication to treat worms from impure drinking water. We also conducted group educational sessions on alcohol and tobacco misuse, family planning and nutrition.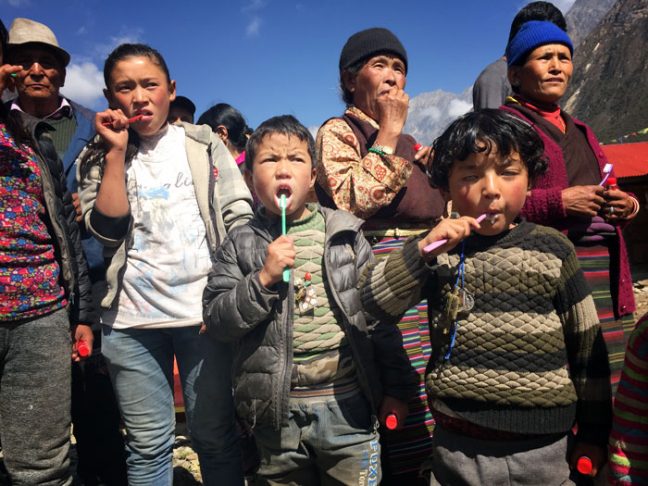 People in the Lower Tsum are generally illiterate and live self-sufficient lives. They gather wood for their hearths, herd ox and yak, and farm potatoes, corn and other grains. Some families depend on the income of young people who work as porters or guides in the trekking business or take jobs in cities or abroad. A few individuals understood Nepali. All the clinicians depended on our team translators to provide one-to-one Tibetan-English interpretation with their patients.
Cleanliness is not a priority due to the difficulty obtaining water and by custom. Dirt was caked onto patient's skin, and flies buzzed around their shoes. Modernity's shame surrounding poor hygiene hasn't encroached upon the Tsumpas yet. Their hair has a milky fragrance from yak butter, a Tibetan version of moisturizing hair gel. Females are clad in the traditional woolen Tibetan dress, which was similarly unwashed.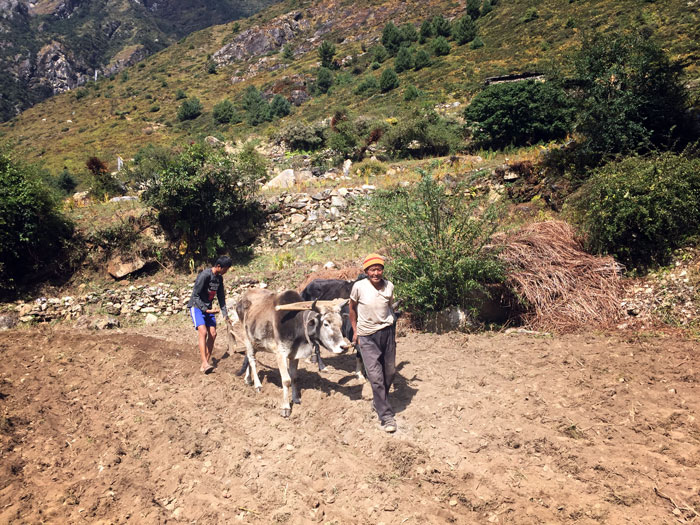 Dhido (a typical Nepali cuisine prepared with water and any type of flour including barley, wheat or corn) is a dietary staple. Rats often steal up to half of the stored corn, the principal grain. Poisoning the rats is not an option in the "no kill" valley so cats are kept to reduce their numbers. Langurs also dip into reserves, and for this reason, most households keep a dog to chase them away.
Alcohol consumption is prevalent. What surprised the team most was the habit of soothing infants and children with spoonfuls of home brew. A few patients showed up intoxicated from their barley-based brew, which they claimed has healthful properties. At day's end, though, team members indulged in a bit of hypocrisy with their own post-exertional libation.
After four days of patient care in Chumling, we headed up and up to the village of Chhekampar at 9300 feet. Our guides informed us that the unstable slopes towering beside the usual trail were still tossing pebbles and rocks so we would have to reroute through dense forest on an old and mostly unused path.
Each of us carried a packed lunch that was doled out by Gopal Dai that morning, as there were no stops on the day's route. A flatter clearing served as our dining hall. Our spirits still high after lunch, our detour sent us uphill through a coniferous forest on an endlessly precipitous trail. The bluebell flowers on the verdant floor and blooming rhododendrons diversified our climb. When hours passed with no hillcrest in sight, group morale plummeted.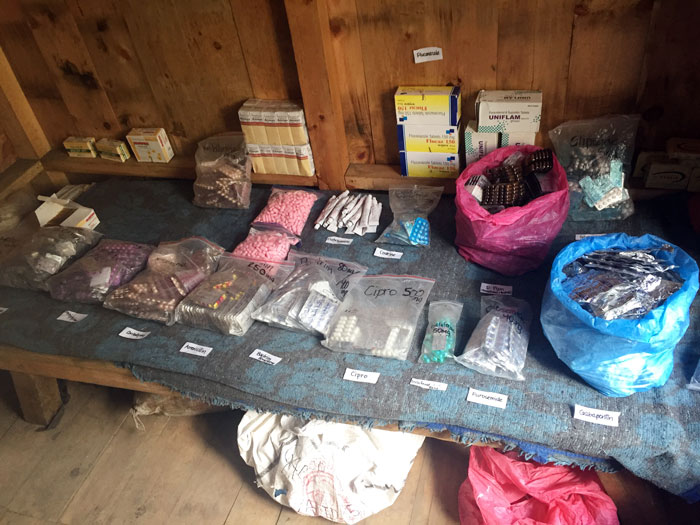 Several team members became winded from the increase in altitude, which slowed down the pack. We began to wonder if we'd make it before sundown. Our guides carried our day packs to help speed our progress, murmuring words of encouragement. We shared food, meds, and water. One of the foreigners claimed that my fellow Nepali optometrist's encouraging words, "Only your own legs will carry you," had carried her through the remainder of the trek.
We encountered traces of stone sheds from nomads of the past. As we descended down to cross the river, the forest canopy cleared, and we spotted our team cook, Devi, who had reached Chhekampar by taking the faster more dangerous route. He had in hand a thermos of hot Nepali tea to fuel us for the final climb. Ten hours after we'd left Chumling, we arrived at our newly renovated tea house. We celebrated with a round of raksi, a traditional distilled spirit.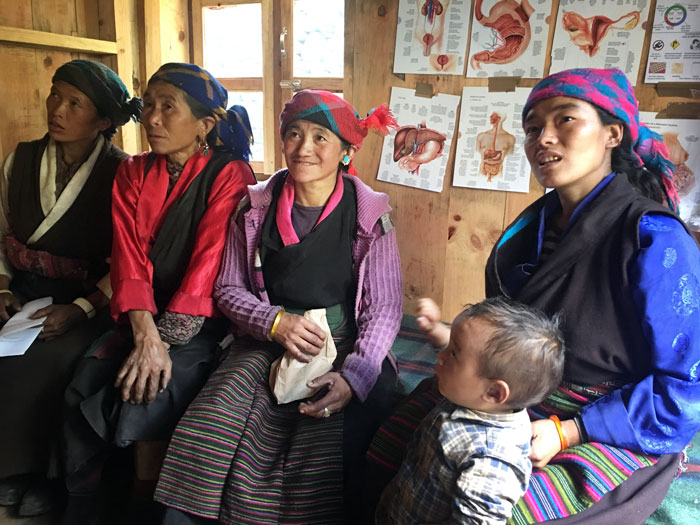 Chhekampar, an idyllic village that heralds the entrance to Upper Tsum, is situated on a flat stretch of land atop a cliff. A stream flows from the melting glaciers through the town to join with the river below. The landscape is thick with wheat and grass saplings. The town had been almost completely rebuilt from the earthquake.
We immediately noticed a difference between the people of the Upper and Lower Tsum, including their more cleanly appearance and the ability of many to speak Nepali. We wondered if it wasn't the wealth of flat, fertile, and therefore, easily cultivable land of the Upper Tsum as well as the cooler climate that enabled food storage over the winter months. People in the Lower Tsum must eat field-to-mouth.
We reached Lama Gaun, the 'village of Lamas,' in less than two hours. The way to Lama Gaun was replete with enthralling panoramas of snow-capped mountains. Midway through our leisurely level stroll, our local translators emerged from their hiding places behind shrubs and stone mani walls to welcome us to the Upper Tsum. One young woman wore the traditional woolen dress woven by her mother and decorated with a silver spoon handed down through generations. The translators gifted us with bouquets of pink rhododendrons and draped white blessing scarves called khatas around our necks. We toasted each other with barley brew, and washed down homemade biscuits with tea; then filled our cameras with photos.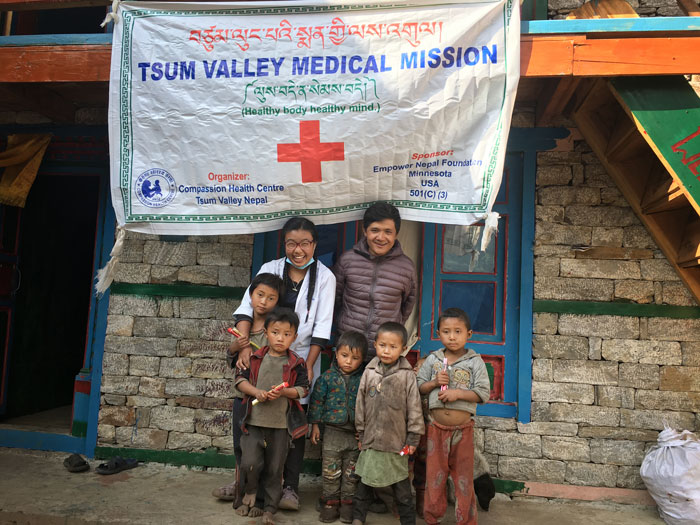 Compassion Health Center, a clinic with basic amenities built by Lama Gaun's head lama and his two brothers now living in Canada, served as our base in Upper Tsum. We separated the spacious clinic into six "exam rooms" using curtains.
We Nepali team members camped in a tent which leaked rainwater over our sleeping bags. The Westerners had dibs on the limited monastery rooms because their payment subsidized our trek, whose cost is prohibitive, equivalent to a year's salary for a Nepali optometrist like me. Lama Pasang, the head lama, and village leader, was ecstatic about the care we provided his community. Word in the villages was our care was better than any they'd ever received, even for the few who have made it to Kathmandu.
By the end of our six days providing care in Upper Tsum, we'd treated nearly 700 patients. Based on my participation in numerous health camps in Nepal, the number is not impressive but the quality of the care was singular.
Our final destination before turning back to Kathmandu was Mu Gompa, a small monastery perched at 11,400 feet not far from the Tibetan border. Five monks live there in isolation except for the tourists who visit to experience its splendor.
On our way back, we stopped at the cave where Boudha Guru Milarepa meditated a thousand years ago. Once a murderer, he'd achieved enlightenment. We stood in awe before his footprints in the grotto.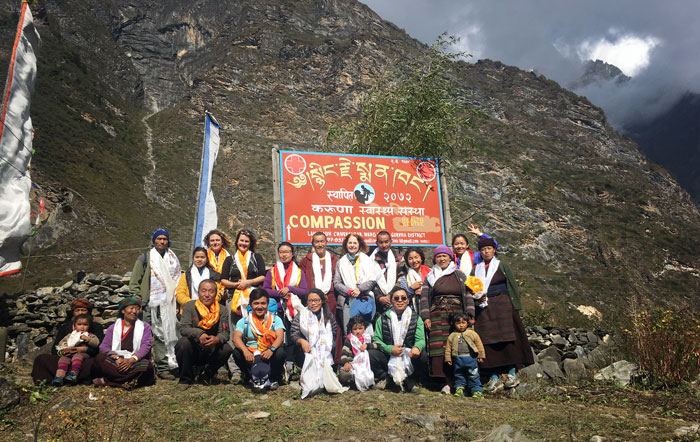 We wondered if it wasn't the beauty and power of the mountains that had brought us closer to accepting death, the way the Tsumpas do in their acceptance of destiny. We had the feeling that if we were to slip off the path, our bodies would become part of that land. In consideration of those who had come to the Himalayas to heal others while grieving their own losses, I can say with certainty that we completed our mission.
Join The Tsum Valley Medical Mission
TSUM VALLEY MEDICAL MISSION is recruiting physician assistants for its October 2018 effort. We provide comprehensive primary care and public health education in this Himalayan valley described by veteran hikers as the "Shangri-La of Nepal." The Tsumbas, as they call themselves, are gracious and grateful, a reflection of their Tibetan Buddhist culture and remote locale.
The trek is 25 days with ten days of care provision along the way. Our trek company manages all the details from airport pickup to departure for the flight home. Porters carry our belongings. We need only carry our day pack.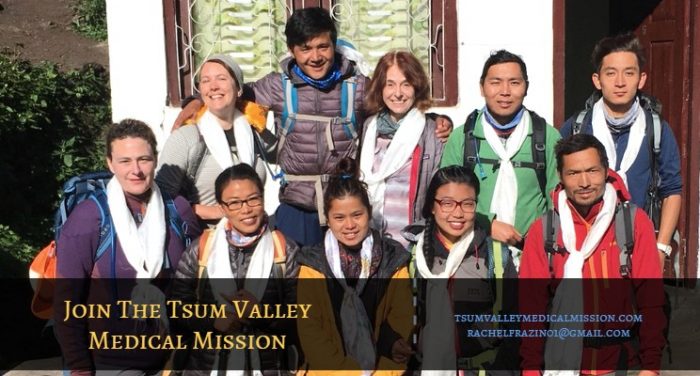 Mission leader and veteran family nurse practitioner, Rachel Frazin, divides her time between St Paul, Minnesota and  Alaska, where she provides medical care as a locum tenens.
For mission details including contact information, visit the website at tsumvalleymedicalmission.com – select the "Volunteer" tab at the top of the home page for details.