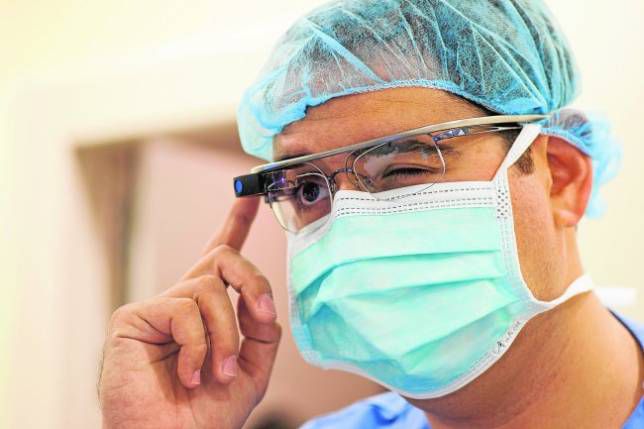 I love technology.  And yes, I love Google.
When the two combine the only thing that can make me happier is the thought of how these types of technologies will evolve to bring patient care into the 21'st century.
I remember when I started PA school in 2002 it was suggested that we purchase a PALM handheld device.
I purchased my beautiful blue PALM Zire 71, with a thumb tracker and the ability to take pictures and video with a retractable screen. This, of course, was before the days of ubiquitous cell phones, which at the time seemed a very unnecessary device given I had a land-line.
The big thing was a pirated CD that one of my classmates had made.  It had an abundance of medical applications such as 5-minute clinical consult, the entire Sanford Antibiotic guide as well as a digital version of Netters Anatomy pre-installed. WOW!! This was even better than Napster.
This combined with my beloved blue Zire 71 was like a dream come true.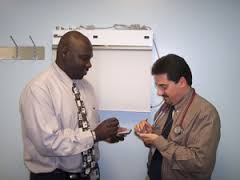 It was not uncommon to find a group of medical and PA students (or even residents and doctors for that matter) "beaming" applications back and forth.
It was like an Orgy in the student lounge when somebody got hold of a new (and more importantly free) program which we could load into our PALM handheld device.
The first time I saw a Dr. pull out his handheld and fax a patient's prescription without touching paper or a pen, I knew the world was about to change.
Ten years later, in all actuality, not that much is different. In the community health center where I work, we still do not have electronic health records.  Patient reports, procedures and labs are scattered amongst the growing abyss of medical data.  We still auscultate with 100-year-old devices.
Augmented Health
I will make a prediction today that Google glass will not only revolutionize the way we take runs, track distances on our bikes or document our lives, I believe it is also set to revolutionize the treatment of our patients.
I envision the world where face recognition illuminates our patient's data immediately before our eyes. Not just an archive of their labs and radiology reports, but of their vitals, activity, sleep, work habits, medications, and supplements.
An S.O.A.P note in the world of augmented reality
Subjective:
Google glass records our patients before our eyes.  It records the history and using keyword analysis dictates a note of the most important points regarding the chief complaint. Data storage is cheap so it also keeps a low res video of the entire encounter.
The software immediately starts working on a differential diagnosis and compiles a running list of physical exam points that will be important as we approach the objective.
We get a complete history and are nudged to ask further questions that may better help elucidate our diagnosis which has been formulated from the patient's chief complaint.
Objective
Glass analyzes our patient's movements, speech, and intonations; it helps us to make predictions regarding our patient's general state of being.
As we begin our head to toe analysis the built-in cameras analyze our patient's skin, temperature, color, pallor, and texture. Wireless technology transmits heart tones, and breaths sounds, a digital analysis of a patient's tympanic membrane, pupillary reactions and carotid artery sounds.
As we make our way down our patient we are prompted to check for RUQ and CV tenderness. We omit or add a GU exam. All the time glass continues to add up the data points, further refining our differential, narrowing down our possibilities.
Diagnostics
Google Glass creates a list of potential lab studies that may be reasonable and cost effective based on the above information. It uses a database of the latest research to guide its recommendations. We can pick and choose, but we are still prompted. We may have a recent lab that does not need repeating. We may be warned that on our patient's last exam they had hemoglobin of 10.4.
Assessment and Plan
We have made our own assumptions and so has the computer. Blending the two we formulate an assessment of the problem and devise a strategy to provide the most effective treatment.
And this is where the augmentation truly begins to shine.
Automated software can work alongside the practitioner. It can even schedule physical therapy, make specialty referrals, or recommend additional lab studies.
It can alert us to needed health maintenance updates, such as vaccinations or screening exams.
It can review a medication list for potential interactions, alert us of more cost-effective combinations, and send patient prescriptions to the pharmacy automatically.
It can alert new parents of resources in the community, meet up groups, breastfeeding support or walking clubs. Its camera can analyze our food intake and portion sizes and create automated alerts regarding caloric intake based on daily movement and calculated energy expenditure.
Beyond the Clinic Doors
Having a computer work alongside the practitioner is invaluable.
One of the most complex and taxing parts of decision making is data analysis. I am not sure if having Google glass will help or further complicate paralysis by analysis. My initial feelings are that like all technology it will slow things down at first until it speeds things up. There are growing pains that go along with the adoption of any new technology.
But Glass will also help us make better decisions by removing some of the most complex and annoying parts of making those decisions. It will help us with finance, diet, sleep, relationships. It should make our lives better by eliminating doubt at least to some degree and helping us cover our basis.
When I look back at my old Zire 71 it seems it took so long to get to this point. But now is the time we are about to see real change.
And in just a short time, our stethoscopes will be Bluetooth or patients will be analyzing our historical data and hopefully, we will be paving the way to a healthier, more efficient and cost effective version of healthcare...
The augmented kind.