Are you ready to get started? Choose your package, and we will begin today!
Single Edit One-on-one Service Supplemental Essays
Your success is our passion. (See just some of our 100's of testimonials and comments below). We are ready to help. Our current PA school essay editing service status (1st December 2023): Accepting New Submissions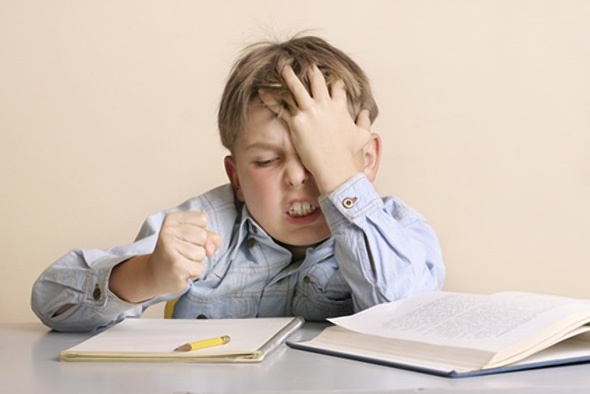 (Photo: Me circa 1987 just thinking about my future PA School Essay)
Are you struggling to write your physician assistant personal statement?
Are you out of ideas, or just need a second opinion?
Do you want an essay that expresses who you truly are and grabs the reader's attention in the required 5,000-character limit?
We are here to help perfect your PA school essay
I have written countless times on this blog about the importance of your personal statement in the PA school application process. Beyond the well-established metrics (GPA, HCE/PCE hours, requisite coursework, etc.), the personal statement is the most crucial aspect of your application.
This is your time to express yourself, show your creativity, skills, background, and make a memorable impression in seconds. This will be your only chance, so you must get it right the first time.
For some time, I had been dreaming about starting a physician assistant personal statement collaborative.
A place where PA school applicants like yourself can post your PA school essays and receive honest, constructive feedback followed by an acceptance letter to the PA school of your choice!
I have been reviewing a ton of essays recently, so many in fact that I can no longer do this on my own.
To solve this problem, I have assembled a team of professional writers, editors, and PA school admissions specilists that worked to revise and perfect my PA school application essay.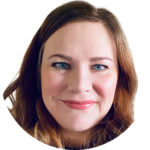 Sarah Schultz honed her writing and editing skills as a professional grant writer for nonprofit healthcare and education organizations. She gained a solid foundation in interviewing and decision-making through her role in academic admissions. A true word nerd, she holds B.A. and M.A. degrees in English Literature from Murray State University, where she was a Jesse Stuart Fellow. She is the author of seven comedic plays and had her first novel published in 2018. For the past few years, she has worked as the Team Leader for The Physician Assistant Life, where she dedicates herself to helping pre-PAs achieve their goals.


Deanna Matzen is an author with articles featured in Earth Letter, Health Beats, Northwest Science & Technology, and the Transactions of the American Fisheries Society. With an early career in environmental science, she developed a solid foundation in technical writing. Her communication skills were further honed by producing and editing content for a non-profit website, blog, and quarterly journal. Inspired to extend her craft, she obtained a certificate in literary fiction, which she draws on to build vibrant scenes that bring stories to life. Deanna loves working with pre-PAs who are on the cusp of new beginnings to find their unique story and tell it confidently.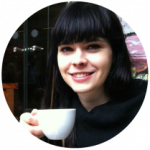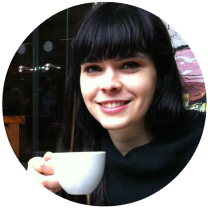 Carly Hallman is a professional writer and editor with a B.A. in English Writing and Rhetoric (summa cum laude) from St. Edward's University in Austin, Texas. She has worked as a curriculum developer, English teacher, and study abroad coordinator in Beijing, China, where she moved in 2011. In college, she was a Gilman Scholar and worked as a staff editor for her university's academic journal. Her first novel, Year of the Goose, was published in 2015, and her first memoir is forthcoming from Little A books. Her essays and creative writing have appeared in The L.A. Review of Books, The Guardian, LitHub, and Identity Theory, among other publications.

Beth Eakman has taught college writing and worked as a professional writer and editor since the late 1990s. Her projects have involved a wide range of disciplines and media, from editing technical reports to scriptwriting for the PBS Kids show Super Why! Her writing has appeared in publications including Brain, Child Magazine, New York Family Magazine, and Austin Family Magazine. Beth lives with her family just outside Austin, Texas. She is driven to help each client tell the best version of their story and achieve their dream of becoming a physician assistant. 
My reviewer was incredible! I reached out to The PA Life's editing service after being disappointed by myparesources, whom I was referred to initially. My editor composed two alternate ways to structure my journey and allowed me to find a novel way to present my personal statement. After revision, I was able to flip my lens, utilize my introduction as my conclusion, and the rest of the paper began to fall into place. Very satisfied with the quality of the work, thank you so much, The PA Life!
I wanted to reach out and thank you for your help with my personal statement. I received compliments about my essay at every interview I had. I also wanted to let you know that I will be attending Duke's PA Program – my top choice. Your help was amazing! Thank you so much again!
I just wanted to reach out and let you that I actually got into PA school this year! Out of the 10 programs I applied to, four offered me interviews. The first interview wound up being my top choice and they offered me a spot. I accept and declined all my other interviews. So I am absolutely overjoyed! I wanted to let you know though. Your editing and help, no doubt, helped me get through the initial phase. Thank you so much! I am truly grateful.
I just wanted to let you know I interviewed and got accepted to my top choice!! Thank you so much for your help with my essay this cycle, it obviously made a huge difference and I am so excited to start this journey. You do a great service, and I am so grateful for it!
I cannot even believe it, but they just called me with the acceptance offer to the * program!!! First, I would like to thank you for helping me along my journey!! I could not have done this without your help!
I just got accepted to one of my top three school choices!
This is money well spent because not only did I receive an interview from my top choice of Pace University, but I was just accepted into their program!
Just thought I would give you a quick update. I was accepted at * and *. I still have another interview coming up, so not certain just yet where I will be going. The good news is, I AM GOING SOMEWHERE!!!!!! Thank you again for all your help!
Hello, I wanted to let you know how this application season was going for me so far. I've had two interviews, still have at least three more scheduled, and I received my first acceptance last week. Thank you again for your help!
Hello, I just wanted to inform you that I got into the * Pa program! I will be starting in January. Thanks so much for your help with my essay. Definitely, money well spent.
I am so grateful I found The PA Life during my application process. Our collaboration allowed my personal essay to shine and truly exemplify my motivation, inspiration, and experiences that have paved my pathway and passion for becoming a PA. I highly recommend this service. In a sea of applications, it is crucial your essay stands out, Duke will accomplish this! I have received numerous interviews and several acceptances!
I wanted to let you know that I just got accepted into my 1st choice PA program. Thank you so much for your help with my essay. I'm sure it made my application stronger and helped me secure one of the seats!
My experience with the PA Life was absolutely amazing. My editor responded to me the day after I submitted my essay for review to inform me that they had received my essay and to ask a few additional questions. I had responded to her a few hours later, and she immediately responded to inform me my essay would be ready the next day with her suggestions and edits. With this being said less than 24 hours later, my editor emailed me an edited essay, comments and explanations about her edits, and a clean copy of my essay. I was amazed and extremely satisfied with the timeliness and with how helpful the edits were. I could not be happier, and I thank The PA Life (and my editor) so much for their time and effort. I would recommend this service to anyone applying to PA school that needs a little help with their PA statement.
Read more client testimonials or purchase a revision
We Work as a Team
Our team of professional editors is wonderful at cutting out the "fluff" that makes an essay lose focus and sets people over the 5,000-character limit. Their advice is always spot-on.
Sue, Sarah, and Carly are amazingly creative writers who will take your "ordinary" and turn it into entirely extraordinary.
I mean it when I say this service is one-of-a-kind! We have spent countless hours interviewing PA School admissions directors and faculty from across the country to find out exactly what it is they are looking for in your personal statement.
We even wrote a book about it.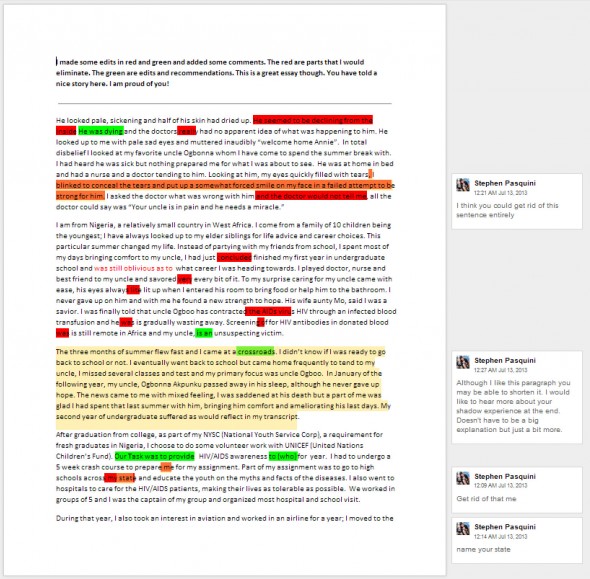 To collaborate, we use Google Drive.  Google Drive is free, has an intuitive interface with integrated live comments in the sidebar, the ability to have a real-time chat, to collaborate effortlessly, and compare, revise, or restore revisions on the fly.  Google Drive also has an excellent mobile app that will allow you to make edits on the go!
Our team has worked with hundreds of PA school applicants within the Google Drive environment, and we have had enormous success.
The Physician Assistant Essay and Personal Statement Collaborative
I finally have fantastic news. So first of all, in total, I was offered thirteen interviews. I was just offered a seat at Nova Orlando! I am finally going to be a PA and a big part of that was from all of your help with my personal statement. So, thank you very much for helping me succeed during this round.
Jennifer. PA-S
I wanted to give a brief update: I have had 4 interviews, 2 acceptances, 1 waitlist, and waiting on one more. Right now, I have a deposit down at Univ. of Texas Medical Branch. Thanks for all your help. It really did make a difference, and I was even complimented on my narrative during a few interviews.
Andrew S. PA-S
I am extremely pleased with this service. It is precisely the kind of constructive criticism I was hoping to receive. I had my essay reviewed by "myparesources" and was not very satisfied with their general comments. Sue put a lot of time and effort and gave me concrete examples of how to change my essay for the better. I WILL recommend this service over all others. Thank you so much!
Joe. Pre-PA
I have set up two options that I hope will offer everyone a chance to participate:
One of a kind, confidential, paid personal statement review service  
A collaborative free one (in the comments section)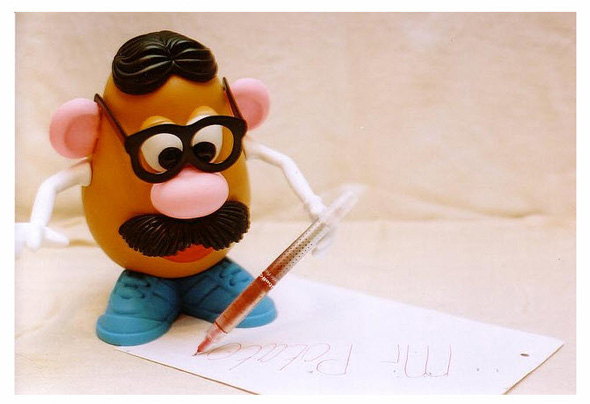 Private, One-On-One Personal Statement Review Service
If you are interested in the paid service, you may choose your plan below.
The Personal Statement Review Service is:
Behind closed doors within a private secure network using Google Drive.
Completely interactive, meaning we will be able to provide real-time comments and corrections using the Google Drive interface.
Telephone consultations are included with all edits above the single edit level.  It's often hard to communicate exactly what you want 100's of miles away; for this reason, we offer the option to edit right along with us over the telephone while sharing in real-time over Google Drive.  This is an option available to all our paid clients who purchase above the single edit level.
We provide both revision and editing of all essays. What's the difference? See below
We will provide feedback, advice, and help with brainstorming and topic creation if you would like.
We will help with a "final touch-up" before the big day just in case your essay needs a few minor changes.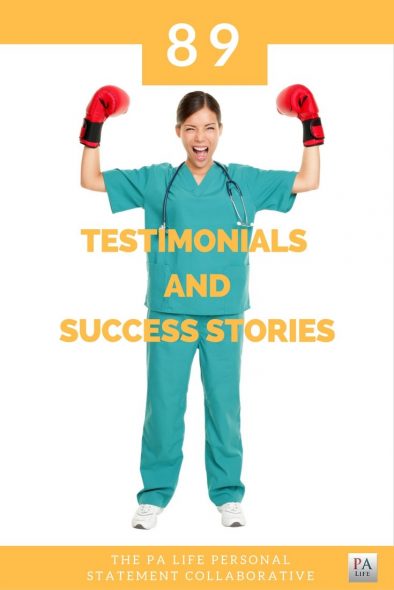 Why Choose Our Service?

It's not our opinion that matters. We have gone the extra step and personally interviewed PA school administrators from across the US to find out exactly what they think makes a personal statement exceptional.
We are a team of PAs and professional writers having worked over seven years with PA school applicants like yourself, providing countless hours of one-on-one editing and revision.
Our clients receive interviews, and many go on to receive acceptance into their PA School of choice.
Because we always give 100%, we will open the essay collaborative for a limited number of applicants each month and then close this depending on the amount of editing that needs to be done and the time that is available.
Our goal is not quantity, but quality. We want only serious applicants, who are serious about getting into PA school. 
Writing is not a tool like a piece of software, but more like how a photograph can capture your mood. It's more like art. The process of developing a unique, memorable personal statement is time-intensive, and it takes hours to compose, edit, finalize, and personalize an essay.
As Antoinette Bosco once said:
Time isn't a commodity, something you pass around like a cake. Time is the substance of life. When anyone asks you to give your time, they're really asking for a chunk of your life.
And this is why I am charging for this service. We love helping people find stories that define their lives, and we love helping individuals who have the passion to achieve their dreams. It's hard to describe the feeling I get when an applicant writes me back to tell me they were accepted into PA school.
There is no price tag I can place on this; it's the feeling we get when we help another human being, it's just like providing health care. But this takes time.
Interested? Choose your plan below.
I've been telling everybody that I come into contact with about the incredible value of your service and that I directly attribute your editing as a reason I got into two schools this academic cycle and received 8 invitations to interview. All the best!
Jeremy Cohen, PA-S
I just wanted to take the time to comment on the services I received from the PA Life. I was extremely stressed out about writing my personal statement and finally decided to search the internet for advice and assistance. I came across the personal statement editing service on the PA Life and decided to give it a try. I received a response within a day and my stress was instantly relieved. I worked personally with The PA Life to edit my statement, and they are phenomenal writers. They didn't change the content of my personal statement, but rather helped me tell my story in a way that is much more desirable! I cannot recommend this service enough to others seeking help on their personal statement. They are friendly, sincere, and experienced! I felt 100% confident in their editing abilities, and we worked together the entire time so that we were both pleased with the results! Thanks again, for all of your help!
Chelsie, K.
Read more client testimonials.
Free Personal Statement Review
Post your essay in the comments section for a free critique
We want to make this opportunity available to everyone who would like help with their essay, and that is why we are offering free, limited feedback on the blog.
You post your essay in the comments section, and you will get our critique. It is that easy. We will try to give feedback to every single person who posts their COMPLETE essay here on this blog post in the comments section.
Also, by posting your comment, we reserve the right to use your essay.
We will provide feedback on essays that are complete and fit the CASPA requirements (View CASPA requirements here). We will not provide feedback on partial essays, or review opening or closing statements. Your essay will be on a public platform, which has both its benefits and some obvious drawbacks. The feedback is limited, but we will try to help in any way we can.
Note: Comment Rules: Remember what Fonzie was like? Cool. That's how we're gonna be — cool. Critical is fine, but if you're rude, I will delete your stuff.  Otherwise, have fun, and thanks for adding to the conversation! And this should go without saying if you feel the need to plagiarize someone else's content you do not deserve to go to PA school.
* Also, depending on the time of year it may take me several weeks to reply!
We love working with PA school applicants, but don't just take our word for it!
Your editing and suggestions helped me out immensely!!! I cannot thank you enough for spending extra time to help make my essay really stand out, but I can tell you that it helped me land an interview with every program that I applied to and I was accepted into my top choice PA program!
Jared Shaw, PA-S
I just wanted to reach out to you and say thank you again.  I was offered admissions to my number one school.  Who knows if this could've been possible without your help in revising my personal statement.
Ashley, PA-S
Awesome service! My editor did a great job editing my personal statement and his feedback was top-notch. For the 2018 cycle, I applied to one school. I was selected for an interview and yesterday I received an offer of admission which I quickly accepted. I know my personal statement played a huge role in my success. I highly recommend this service.
Read more client testimonials
. 
Nikki Reynolds, PA-S
I am writing this because I wanted to share with you that I have been accepted to the University of Iowa PA program. I would like to once again thank you for your insight and guidance while writing my personal statement, it came at just the right time.
Eugene V.PA-S
I have recently been accepted to a program that was one of my top choices, and I also was waitlisted with two other schools. I wanted to thank you again for all your help. Not only am I grateful for your knowledge of writing and grammar (which were invaluable), but most importantly your kind words and motivation, which I needed so much at the time. You're a great person!
Alex Taylor, PA-S
I worked closely with The PA Life for the revisions on my personal statement. They must have edited my original version half a dozen times before they felt it was good enough to send off and never made it seem like an inconvenience. They always responded to my emails within a 24-hour time frame but usually got back to me within a few hours. I am very pleased with how my personal statement turned out thanks to all of their time, ideas, and direction. The service the PA Life provides is well worth the money spent!
Michelle Murphy, Pre-PA
The PA Life helped me with my personal essay writing for PA school. My editor was very patient and helpful with me. I made lots of mistakes in my essay, but with their help, I was able to write a sensible essay that was good enough to get Interview calls. I highly recommend his service.
Rajni, Pre-PA
I am incredibly happy with your service and would highly recommend it to any PA applicant. My editor helped me to put my thoughts in order and to make significant changes. My personal statement sounds great and seems easy and interesting to read now. The editors took a lot of time explaining their way of thinking and understanding what I was trying to say. Thank you so much for your help. I really appreciate what you are doing for others.
Olga, Pre-PA
I was so glad that I chose to use the personal statement collaborative service.  The PA Life turned it (my essay) from long, rambling, and scattered to a much more concise, well-written essay. I really feel as though it represents me well! They always responded quickly, and I felt as though I got a lot of value for the money. Thank you!
Jennifer, Pre-PA
I was extremely happy with this service and would recommend it to anyone applying for PA school! I am just waiting for the schools I applied to receive the final pieces of my applications.  Thank you so much for your help! 
Hailey, Pre-PA
How to submit your essay for the paid service
If you are serious and would like to have real, focused, and personalized help writing your personal statement please choose your level of service and submit your payment below.
After you have submitted your payment, you will be redirected to the submissions page where you can send us your essay as well as any special instructions.  We will contact you immediately upon receipt of your payment and essay so we may begin work right away.
Pricing is as follows:
Choose your plan then click "Buy Now" to submit your essay and we will get started right away!
Every purchase includes a FREE digital copy of our new 100-page eBook How to Write Your Physician Assistant Personal Statement, Our 101 PA School Admission Essays e-book, the expert panel audiobook, and companion workbook. This is a $65 value included for free with your purchase.
All credit card payments are processed via PayPal over a secure HTTPS server. Once your payment is processed you will be immediately redirected back to the essay submission page. There you will submit your essay along with some biographical info and all suggestions or comments you choose to provide. You will receive immediate confirmation that your essay has been securely transmitted as well as your personal copy of "How to Write Your Physician Assistant Personal Statement." Contact [email protected] if you have any questions, comments, or problems - I am available 24/7.
The hourly service includes your original edit and one-on-one time over Google Drive, it is simple to add more time if necessary, but you may be surprised at what a difference just a single edit can make. We find our four-hour service to be the most effective in terms of time for follow-up and full collaboration. We are open to reduced rate add-ons to suit your individual needs.
Writing and Revision
All writing benefits from rewriting when done well.
When you are in the process of writing a draft of an essay, you should be thinking first about revision, not editing.
What's the difference?
Revision refers to the substantial changing of text.  For example, it may include re-organizing ideas and paragraphs, providing additional examples or information, and rewriting a conclusion for clarity.
Editing, on the other hand, refers to correcting mistakes in spelling, grammar, and punctuation.
On all submissions, we perform both, revision, and editing.
How to submit your PA school essay for the FREE editing service
Follow the rules above and get to work below in the comments section. I look forward to reading all your essay submissions.
- Stephen Pasquini PA-C