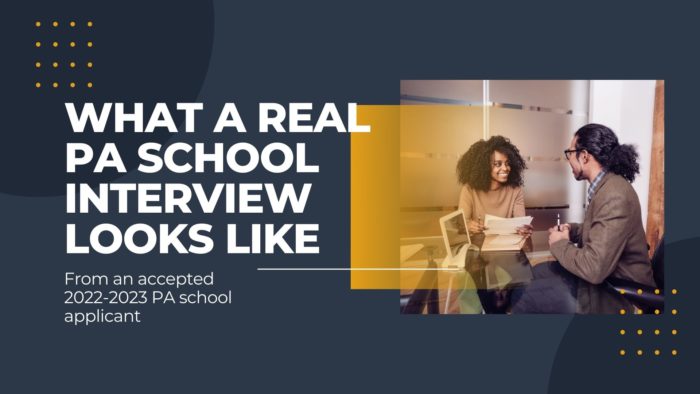 This is an email I received from one of our mock interview clients in March 2022.
He describes in detail the elements of his PA school interview and how he successfully approached each portion.
I am sharing it with you here so you can see firsthand what a PA school interview in 2022/2023 may entail. PS There is some good news at the end! 😀
I just wanted to give you an update on how my PA School interview went.

The first hour was a program overview by the program director Theresa. I learned that this year instead of thirty seats, they will now be accepting sixty!

The second hour was the student panel where eight applicants including myself asked two current students a bunch of questions. I made sure to ask some good ones.

The third hour was described as a group interview in the prep emails but was something a little different. I was placed in a Zoom breakout room with two other applicants and the program director herself!

I was a bit shocked and nervous, but after a minute or two, I calmed down and did very well with all her questions. Many of them were general individual questions about my life and experiences.

After the hour was finished, she asked if we had questions and I asked her one about her past research on prenatal genetics and opioid addiction. She was both ecstatic and impressed to see I did my research on her.

The final hour was an individual interview between a current student, a PA that graduated from the program, and me. A LOT of the questions were similar to the questions we practiced during our mock interview just in a different format.

I feel I did amazing answering all their questions in a thoughtful and honest way. The weirdest question they asked was "Teach us something?" They wanted it to be a lighthearted and fun response… so I ended up explaining how to cook a ribeye steak for a solid 5 minutes!

I finished all their questions within 40 minutes, so the rest of the time was filled with them asking about my life just out of curiosity.

I really enjoyed myself.

Overall, I am incredibly happy with how the entire interview went. Whether I am accepted or not I'm proud of the responses I gave and how I carried myself.

I am truly super grateful for all your feedback and help this week. It made a world of a difference. I should be receiving a decision within 2 weeks.

Thank you so, so much again.

Warmly,

K.W. Pre-PA
PS: Here is the follow-up email I received two weeks later from K.W.:
It's official! I got an acceptance call today from the program director, Theresa. I am so excited and thrilled about this next chapter. My family, friends, and I were very emotional this morning Haha.
This email from K.W. (now a certifiable PA-S!) provides insight into what PA school admissions teams look for when interviewing prospective students.
It's tough to consider that after all the demanding work of submitting your CASPA application, an interview may be just around the corner. Still, there are things you can do now which will help prepare yourself beforehand!
My advice? Don't wait until the last minute - start practicing common PA school interview questions early on to subdue your fears and solidify your strategies. The earlier you begin your practice, the more prepared you will be on your interview day.
Stephen Pasquini PA-C